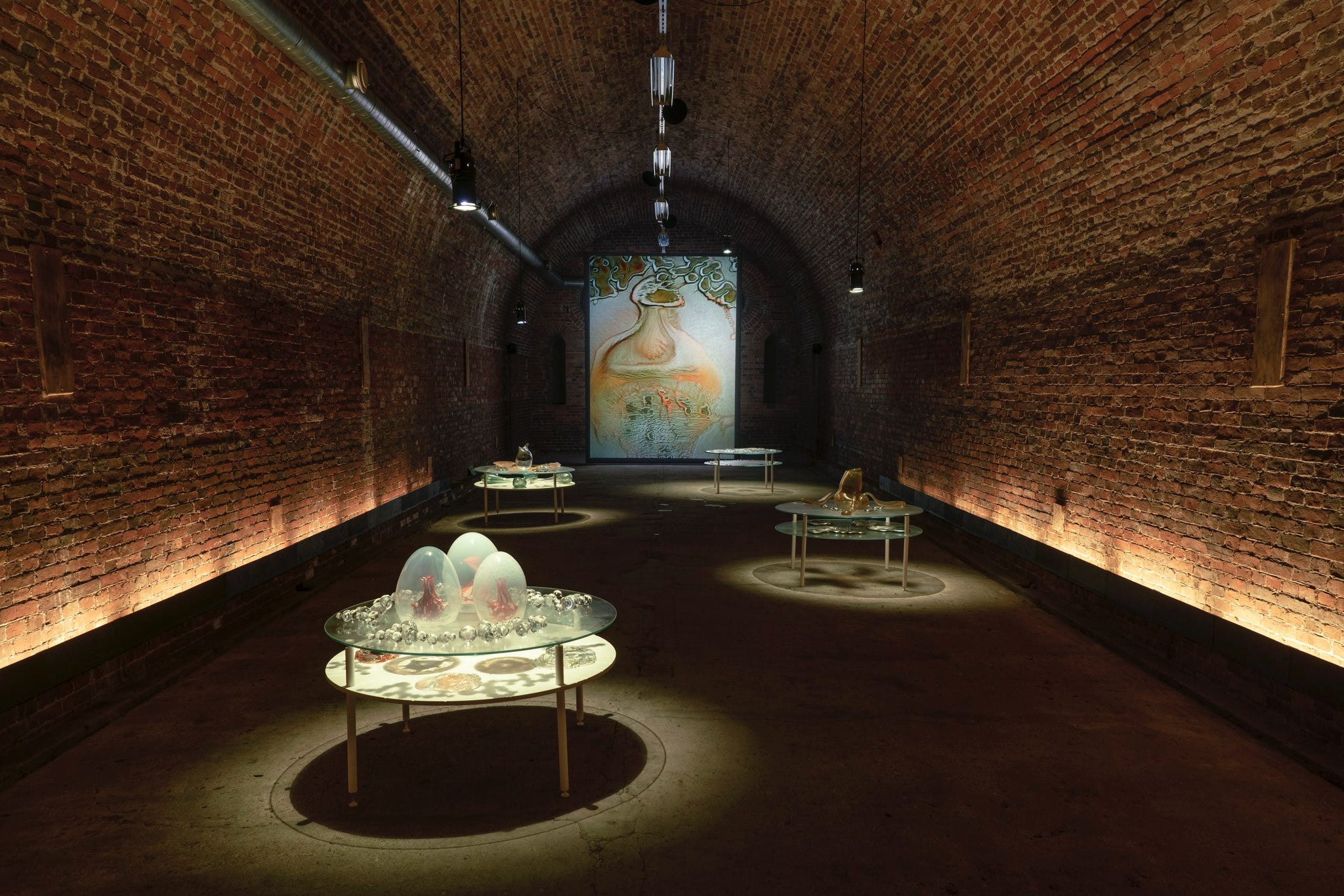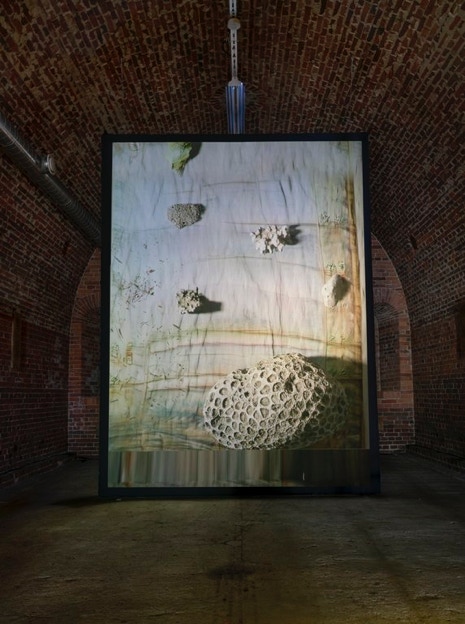 ΨZone, 2021
Installation with 5-channels of ultrasonic sound, glass, and 3D-animation. Commissioned by Helsinki Biennial, Photos by Maija Toivanen/ HAM/Helsinki Biennial
Online:
ΨFM is a monthly 24-hour ambient radio broadcasting every full moon in 2021. It is made possible by Bronze AI-technology. Link.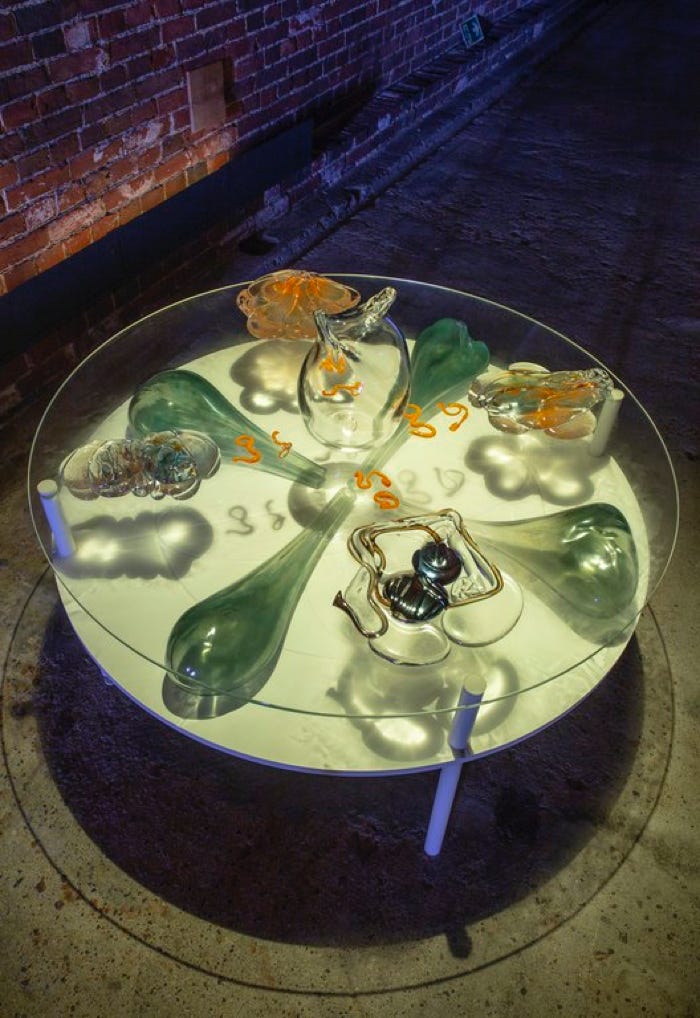 ΨZone is like an alien zone or giant microscope. It examines the formation of knowledge within complex systems. The material components – computer-simulated proteins, audio recordings of soil, water and chemical reactions transmitted via ultrasonic speakers, and shapes stored in glass – are inextricably entwined in a symbiotic web. Ecosystems and their biodiversity are born in a similar system of multi-layeredness and porous interchange of reactions. The title ΨZone (Psi Zone) refers to the wave function of quantum mechanics, and the psyche.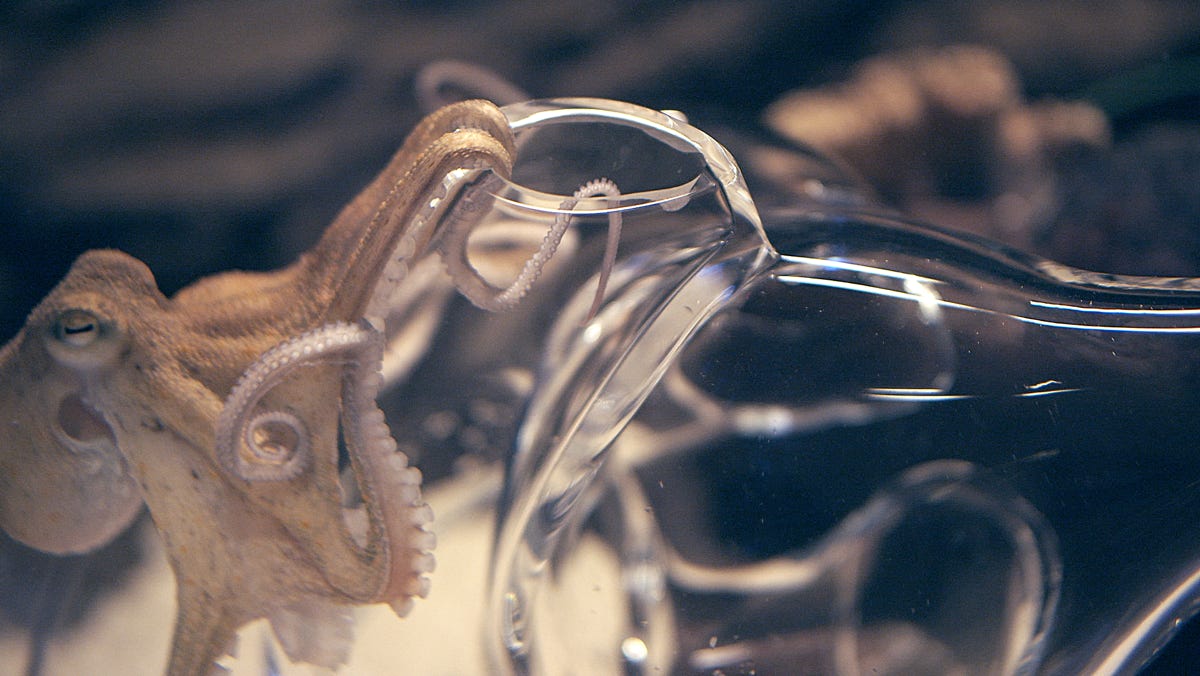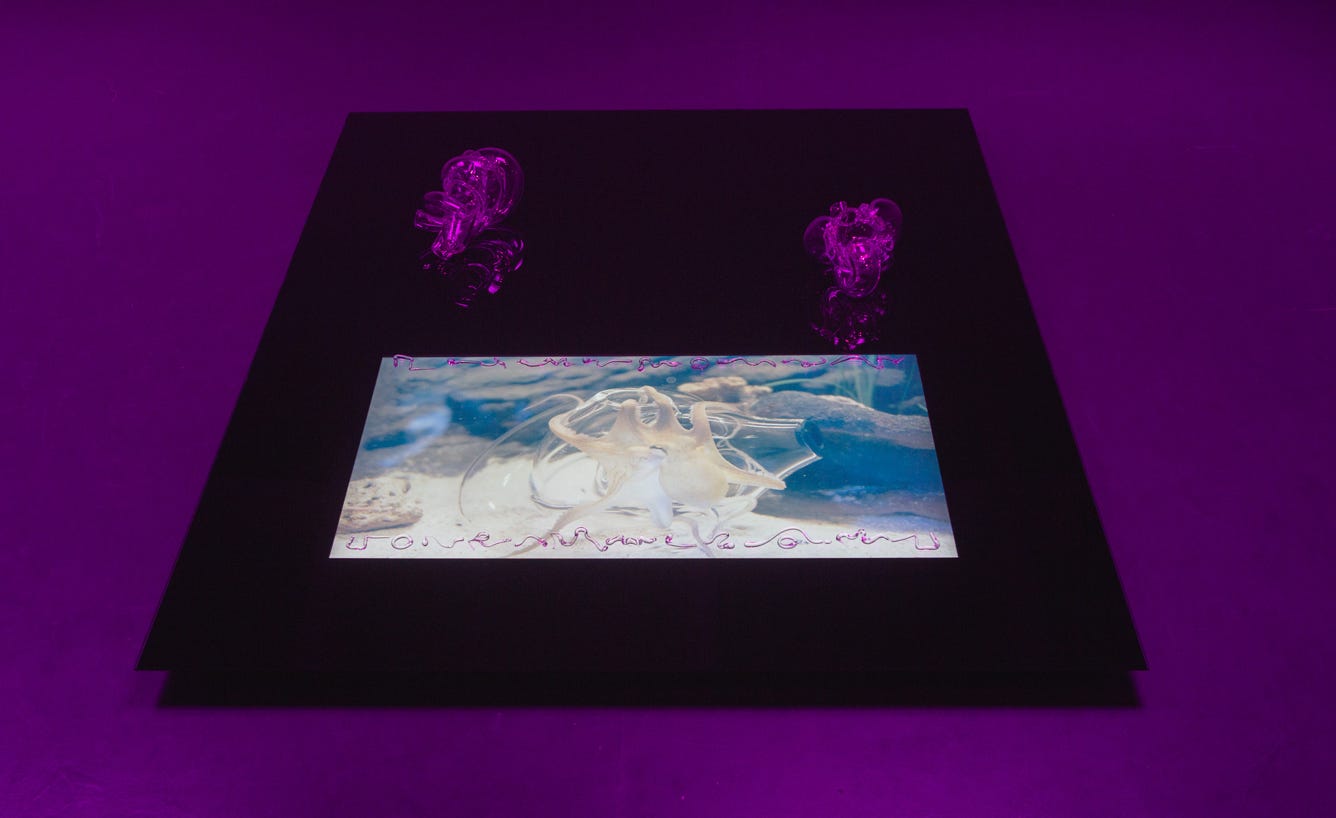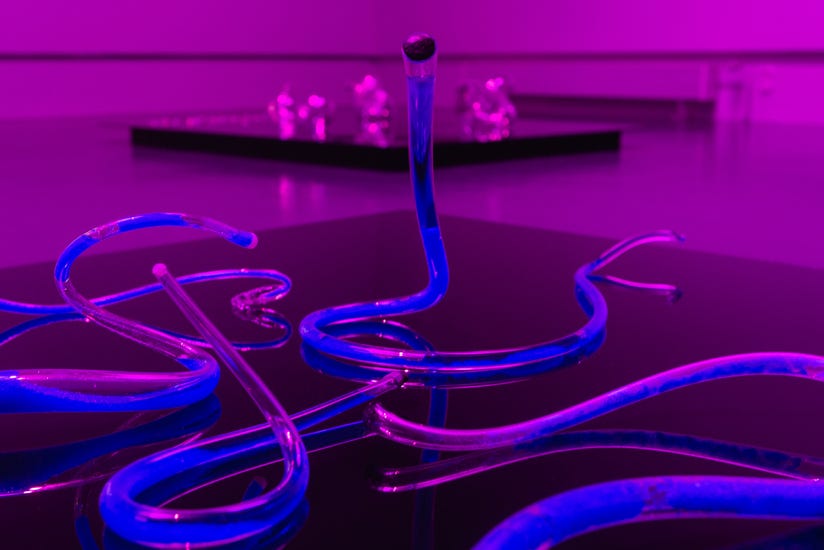 Habitat Cascade, 2019
Installation environment, ultrasonic audio installation, video, glass objects made for octopuses.
Exhibition views, WAM-museum, Turku, Finland
Curated by Gina Buenfeld (Camden Arts Centre) & Terhi Tuomi (WAM)
Link to a review of the exhibition in 
September 2019 issue of ArtReview
The ecological term habitat cascade refers to the shaping of habitats by one species creating the living conditions of another in a mediated fashion. The work displayed at WAMx is concerned with the indirect interaction of species and artworks, or with the attempt to generate the conditions for such an interaction to take place. 
Since 2016 one strand of Tuomas A. Laitinen's artistic practice has touched upon the research into cognition and consciousness in other-than-human minds, focussing on octopuses in particular. This endeavour is emerging through different material agencies: glass objects made for octopuses, multiple video and audio works, and a series of glyphs—made both as a font and as glass objects—derived from research on octopus arm movements. 
Images: Ville Mäkilä / WAM
A Proposal for an Octopus (series), 2019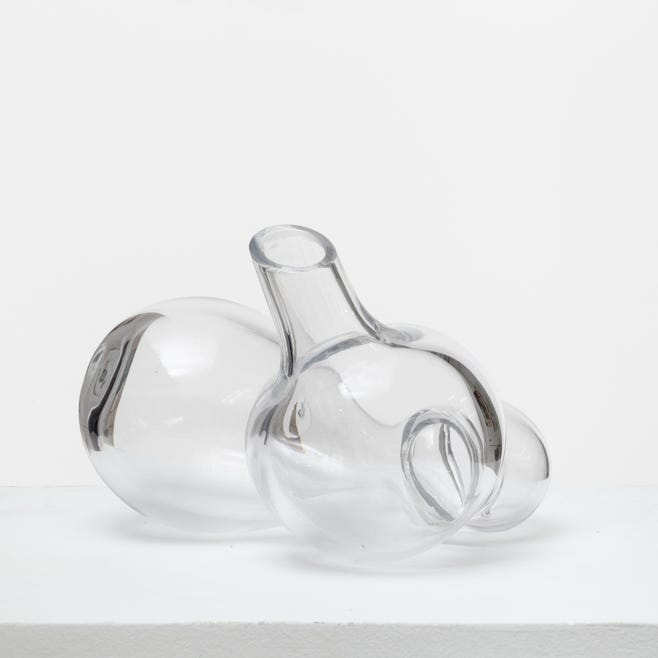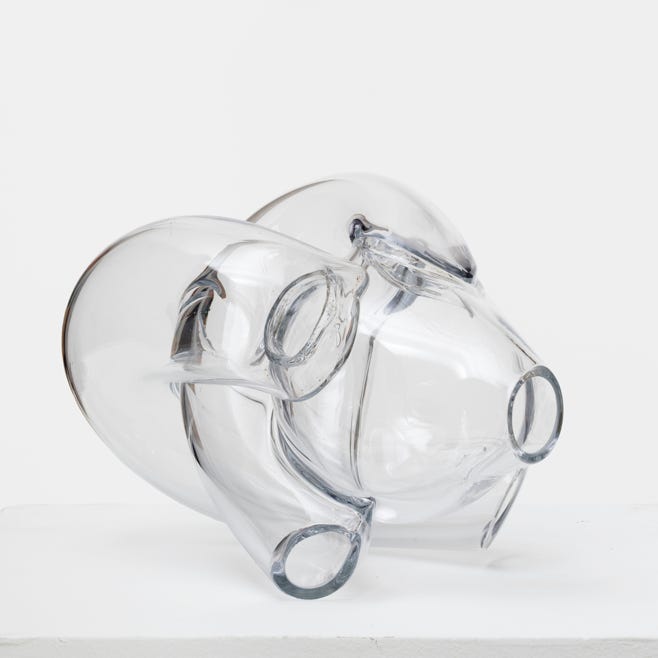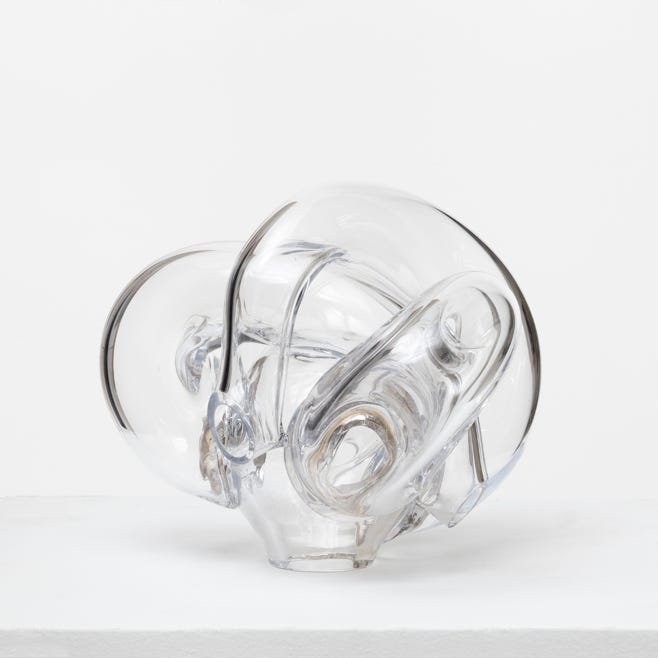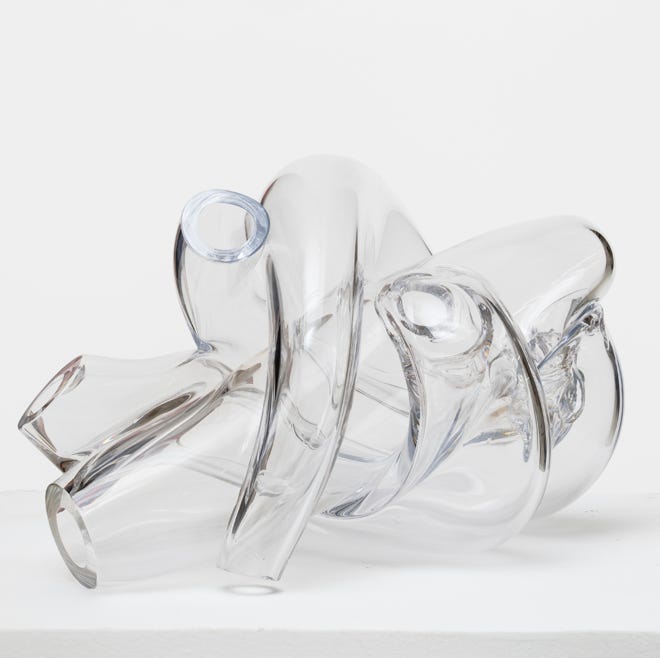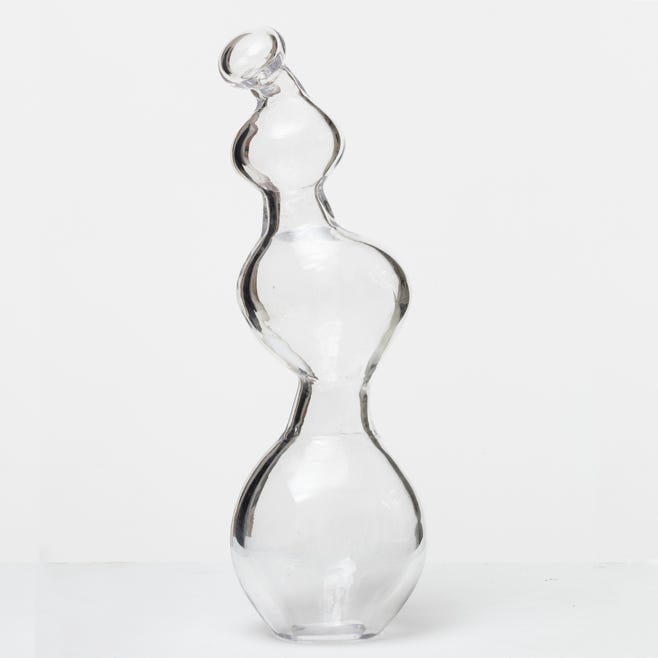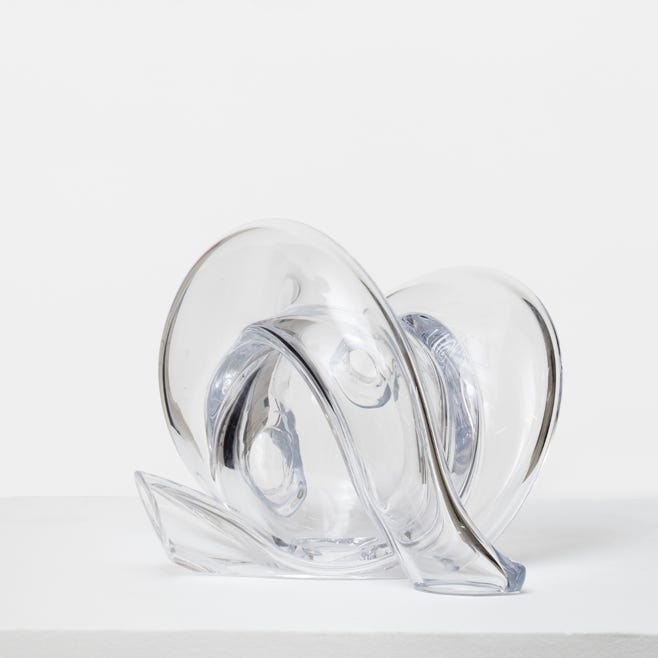 Glass objects made for Cephalopods
Photographs: Jussi Tiainen
Biomipeli / The Game of Biomes, 2019-20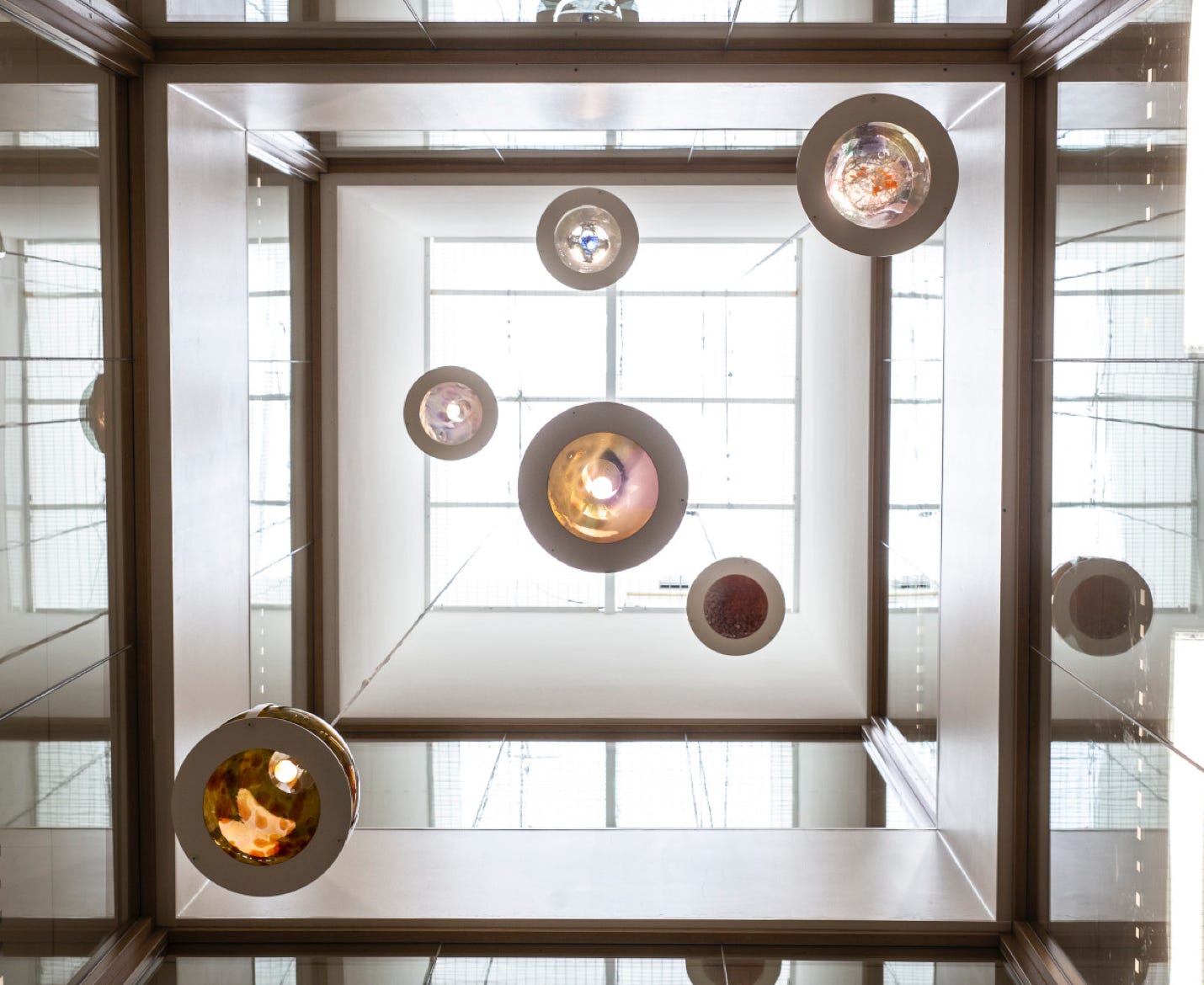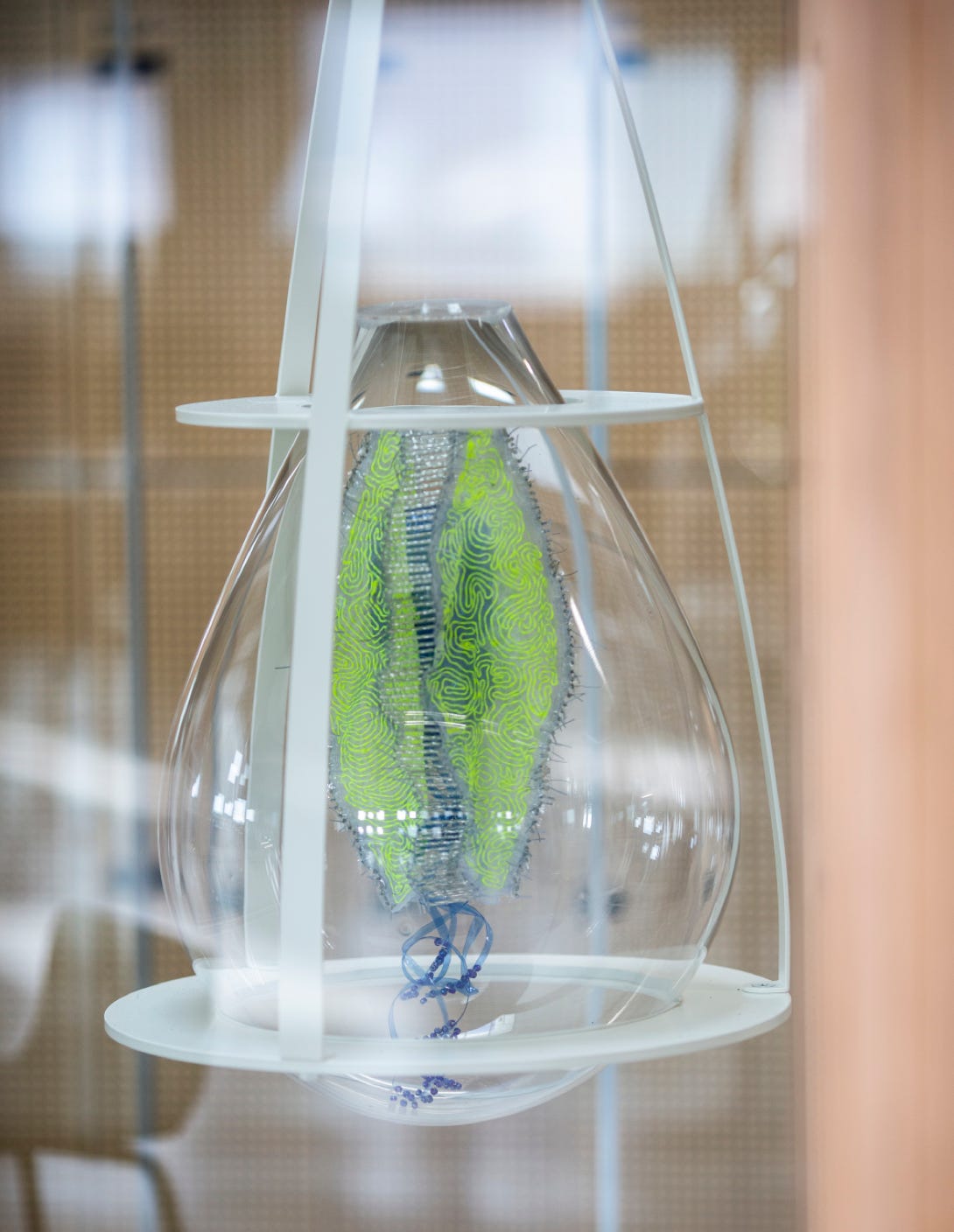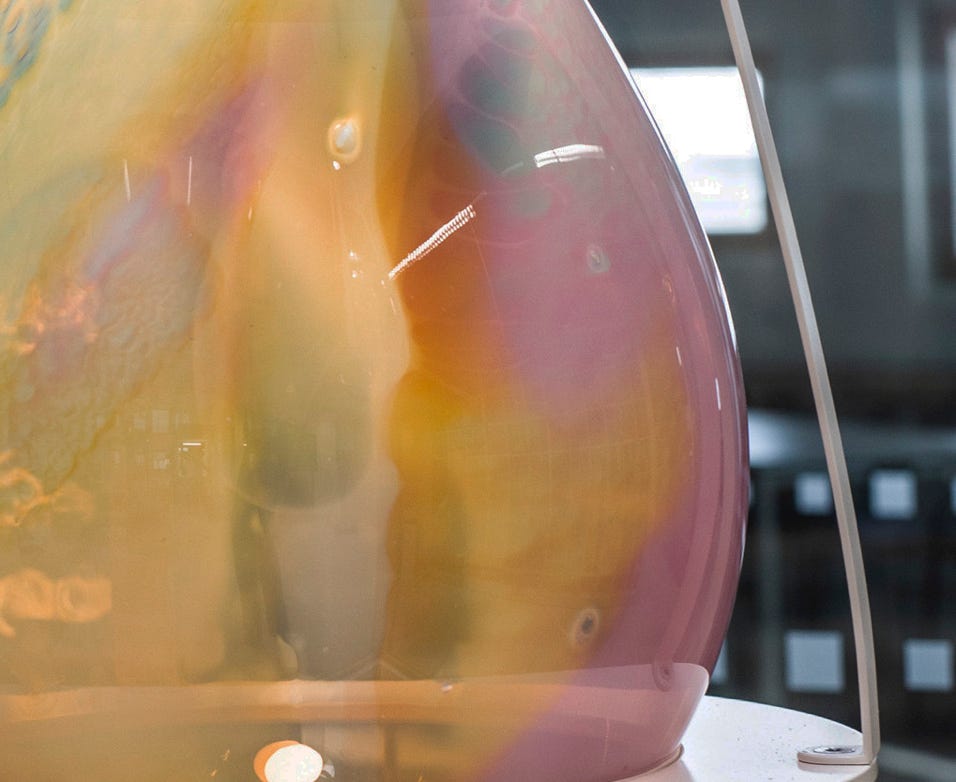 Biomipeli/The Game of Biomes 2019-2020
Permanent public installation, Jätkäsaari comprehensive school, Commissioned by Helsinki Art Museum
Biomipeli is a multi-part permanent public commission for the Jätkäsaari comprehensive school. The work consists of several glass eggs/biomes and a video installation produced with a differential growth algorithm. 
The third part of the work is a continuous performative/social setting approaching the questions of economy and ecological reconstruction. In this phase of the work, the pupils of the school will receive resources for projects concerning climate action and justice.
Project team: Laura Jantunen, Marko Tandefelt (Kunstventures), Tatu Heinämäki (Kunstventures)
Project manager: Paul Flanders
Images: Maija Toivanen / HAM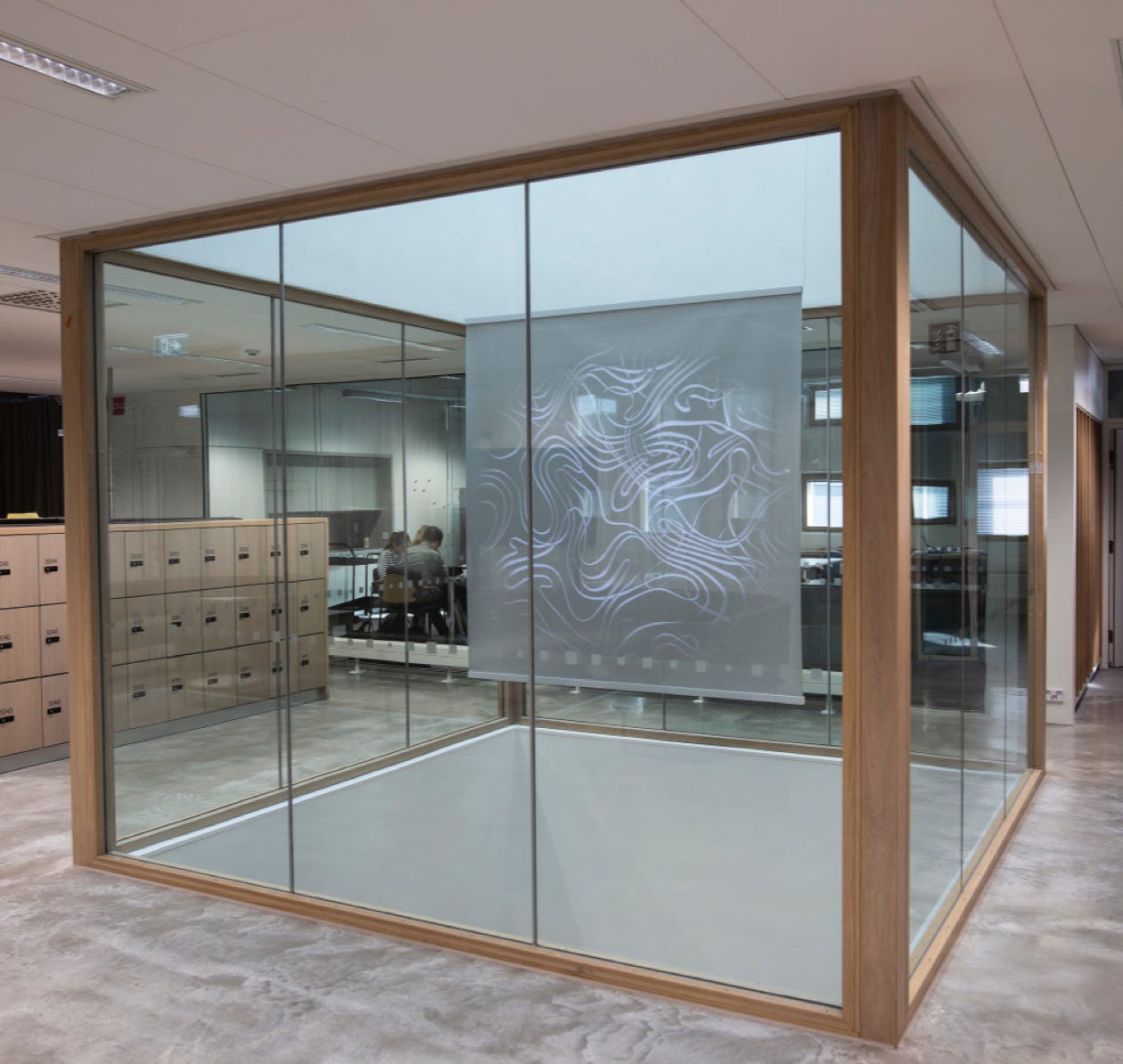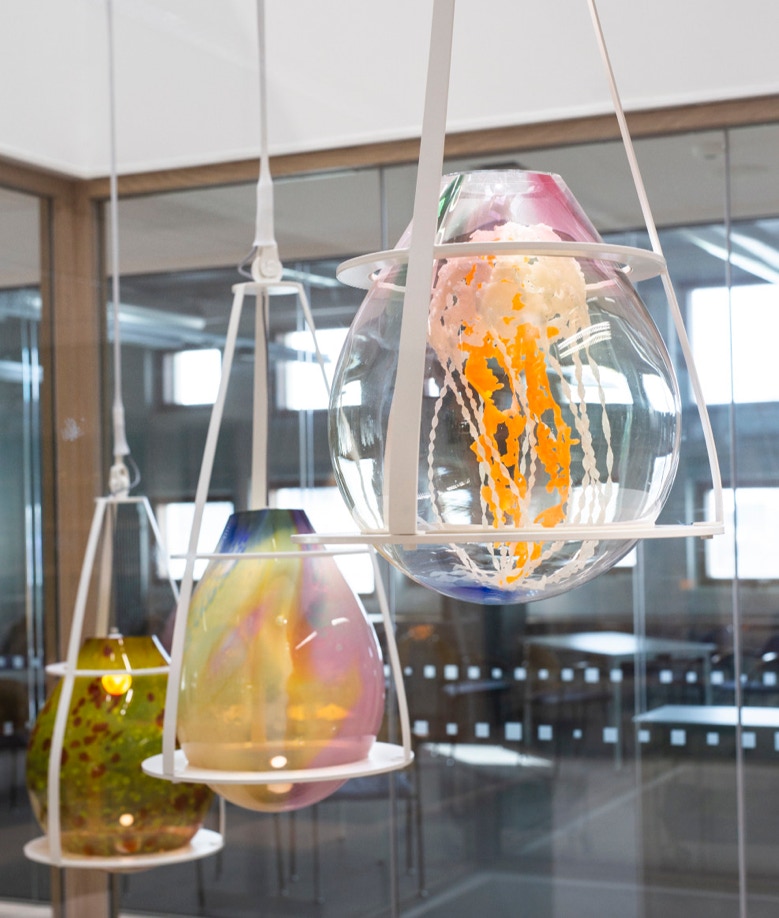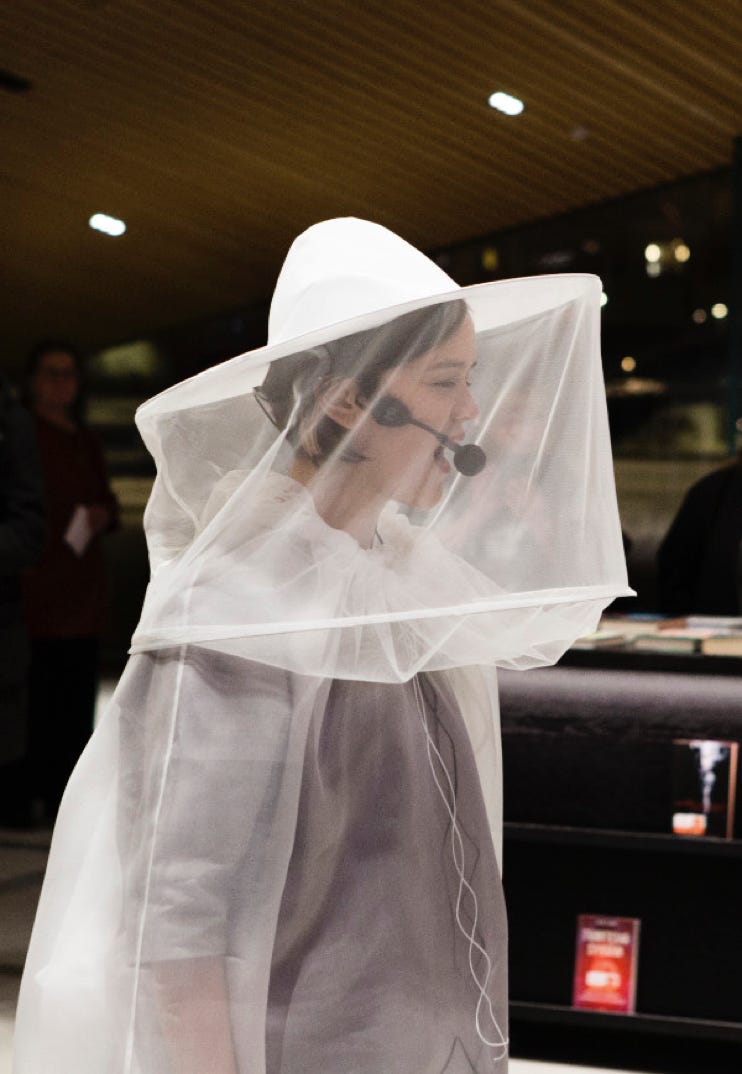 Swarm Chorus, 2019
Video installation, performance, ultrasonic audio
Performers: Valisa Krairiksh, Eeva Semerdjev, Amel Sihvonen, Ullamai Varis
Costume design: Pauliina Sjöberg
Coding and technical consultation: Marko Tandefelt 
Supported by
Ultrasonic Audio Technologies Ltd.
The Library's Other Intelligences, a project organized by the MOBIUS Fellowship Program of the Finnish Cultural Institute in New York.
Curated by Shannon Mattern and Jussi Parikka
Swarm Chorus is a performance and sound installation produced with various generative tools. The work is an experiment with the form of the canon (especially medieval canons), a kind of an algorithm that allows us to generate complex polyphony from seemingly simple collections of organised sound. Here, the canon form is as a morphing and churning organism, a layered progression without a definitive beginning or end. The work as a whole presents an ecosystem of circulating substances. The words are inspired by ecological science fiction, functioning as fictional recipe poems describing and decoding an alchemistic combination of matter and meaning. In Swarm Chorus, one can find ancient modes layered with the notion of extended mind as a conductor for accumulated knowledge.
The aural events of the work are channelled with ultrasonic speakers and singers who are wirelessly connected to the library's primary public address system. A speculative score for the composition is displayed in the form of a video installation and series of silkscreened scrolls.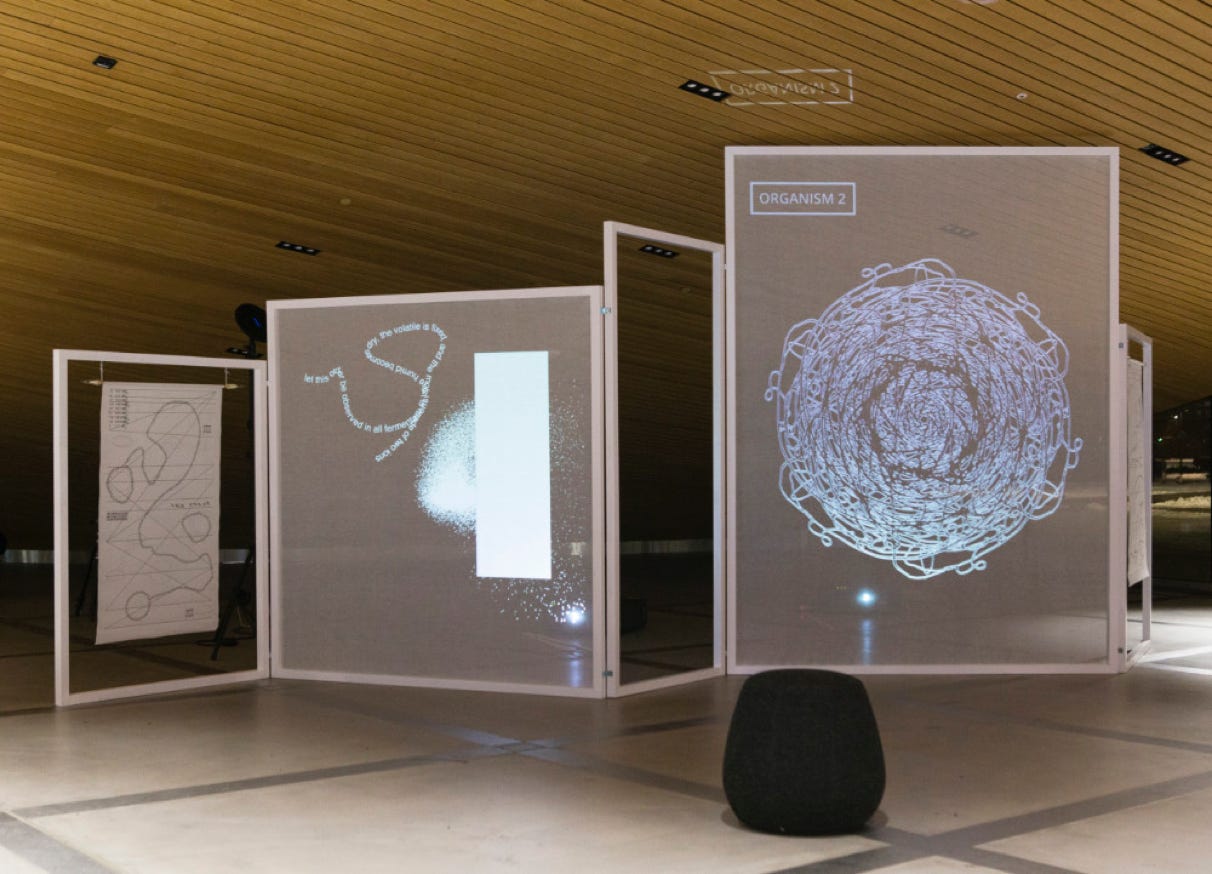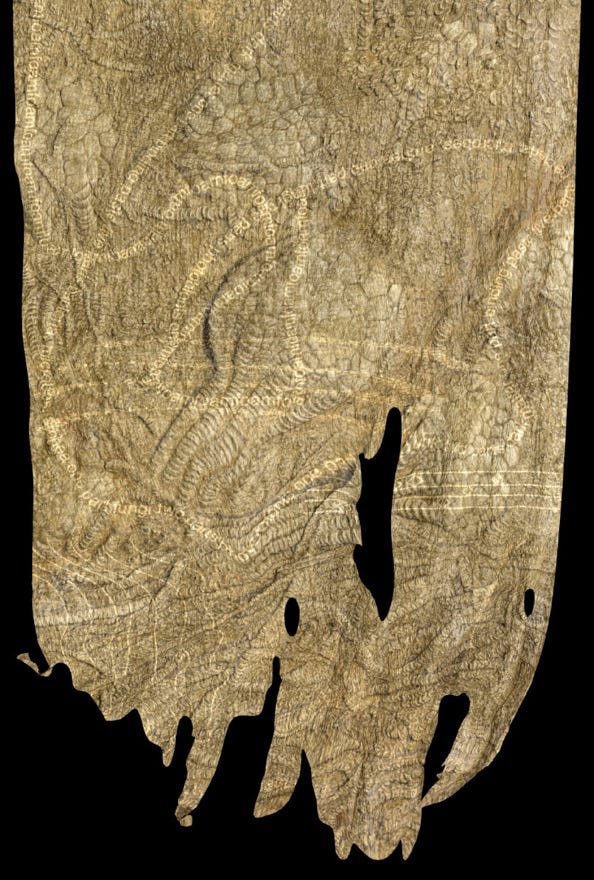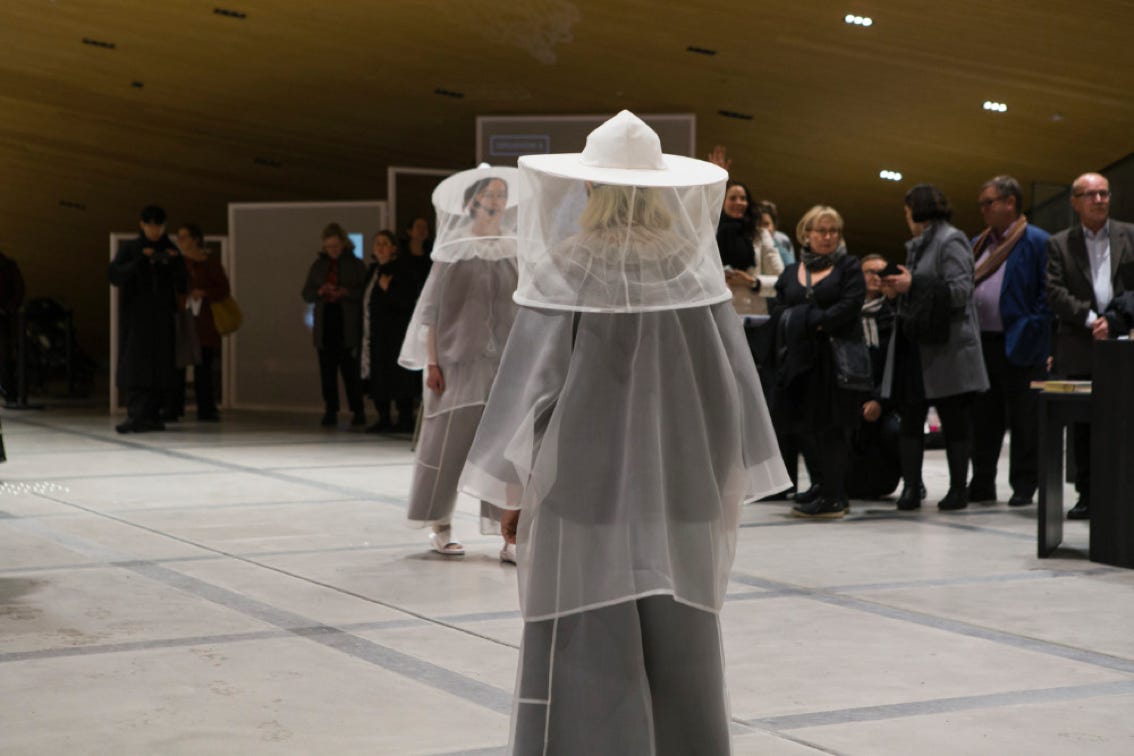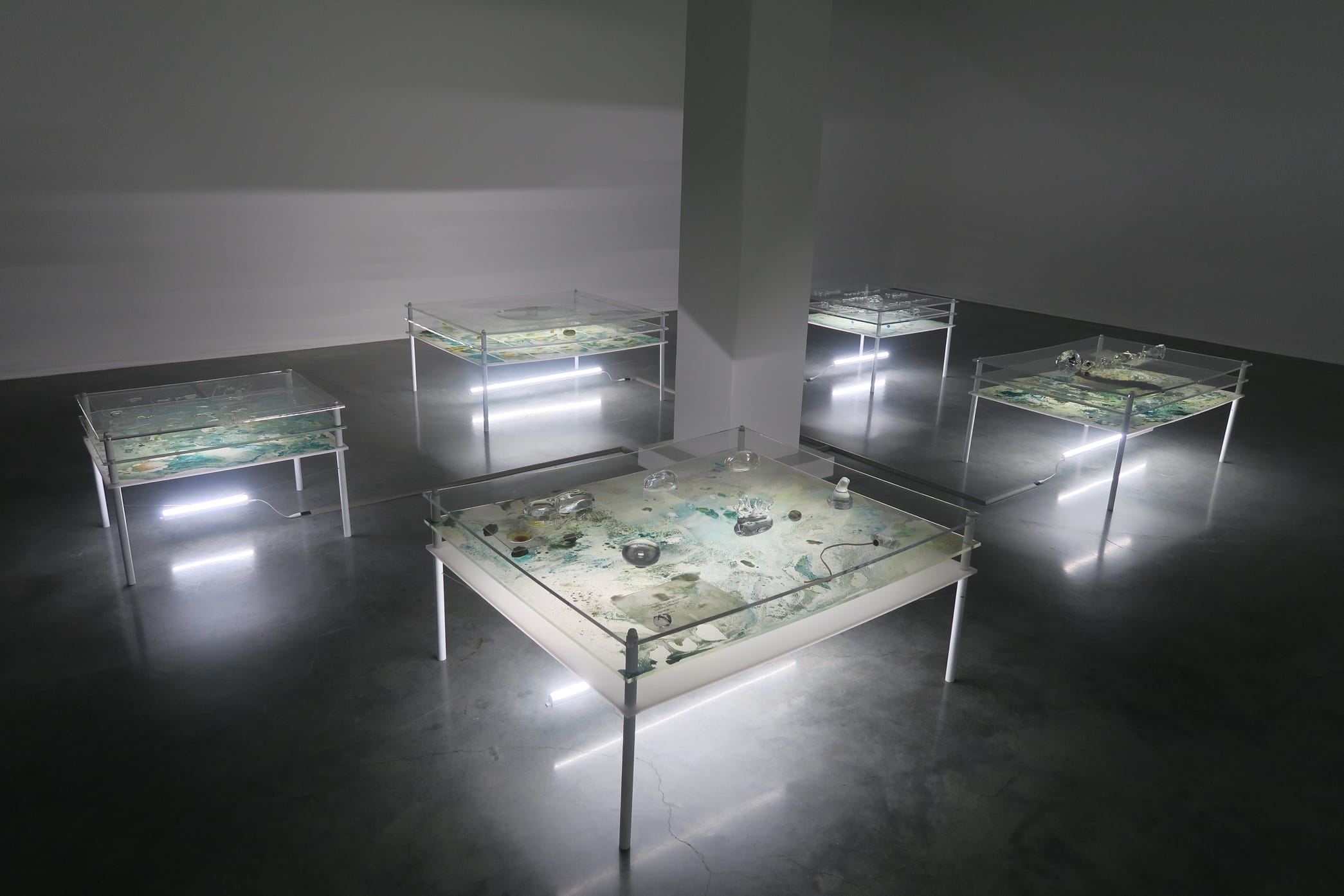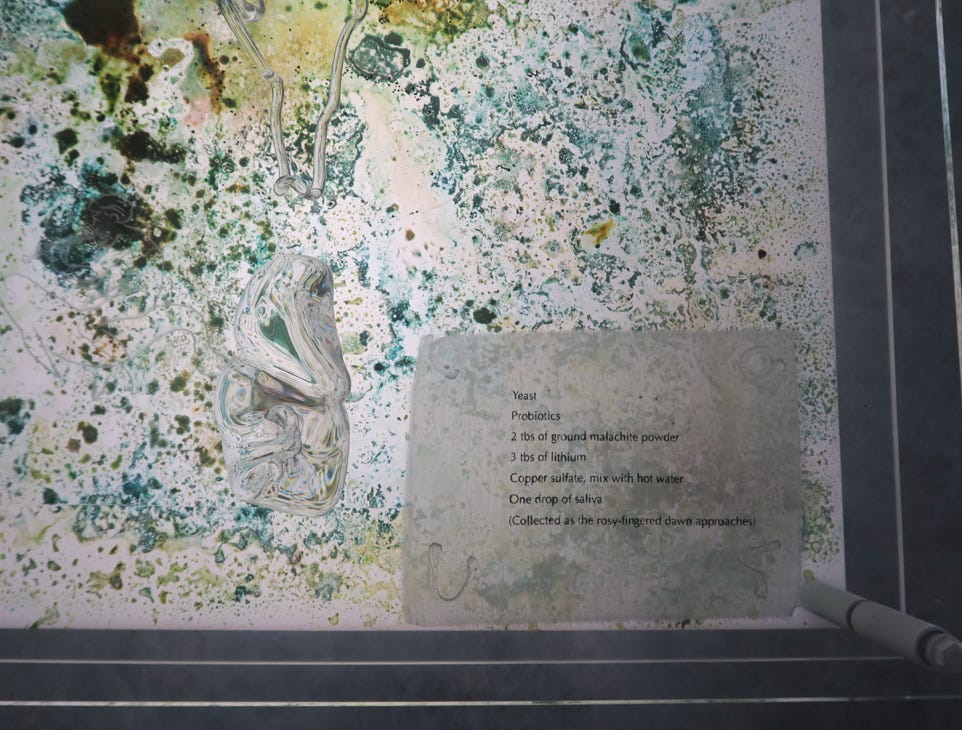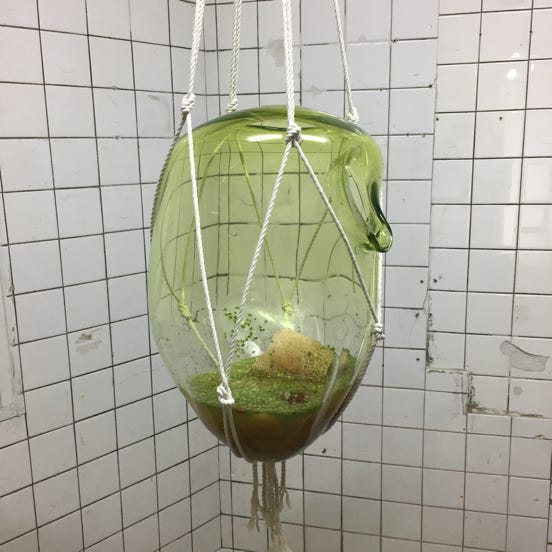 Dossier of Osmosis
,  2018
Mixed media installation with ultrasonic speakers
Exhibition view: 21st Biennale of Sydney,
MCA Australia, curated by Mami Kataoka
Text: Nora N. Khan
Costume design: Julia Valle
Voice: Deborah Birch
Glass: Lasismi / Joonas Laakso 
Production assistant: Paul Flanders
Commissioned by the Biennale of Sydney
Courtesy the artist and Helsinki Contemporary, Finland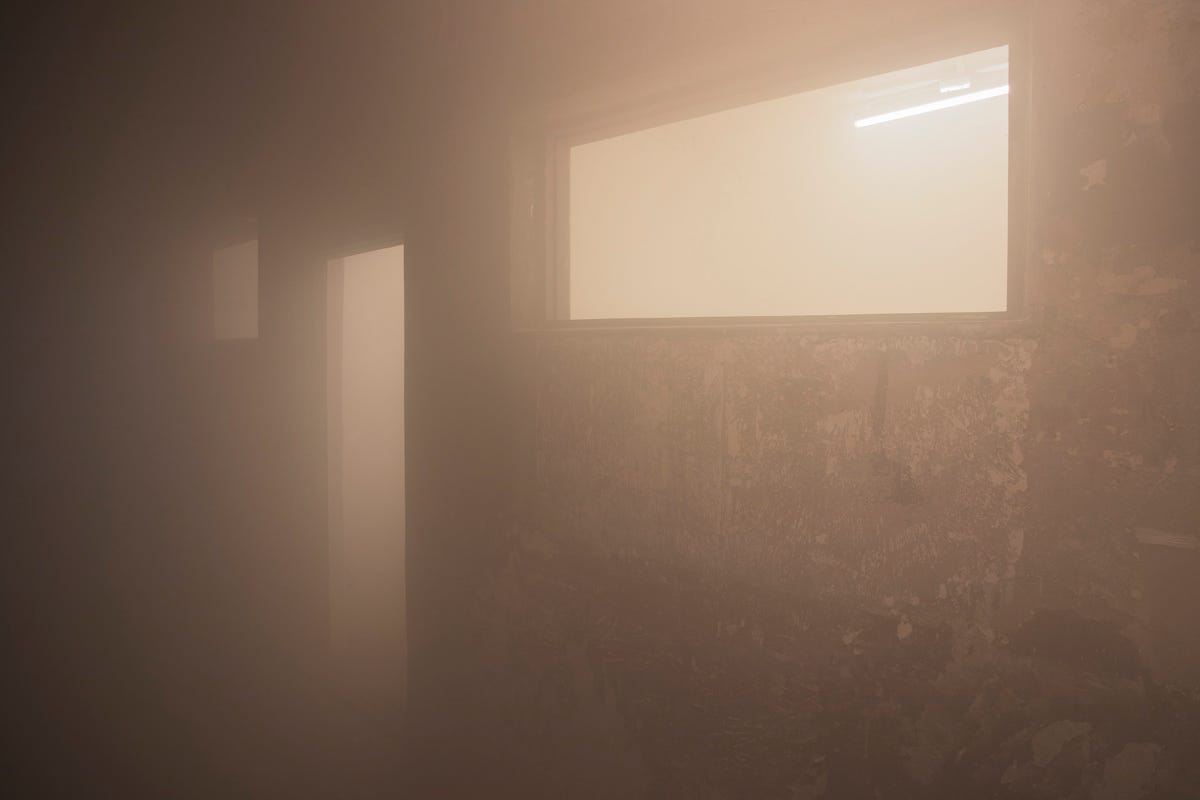 Cryptospores (for glass and voice)
, 2018
3-channel sound installation, three rooms, haze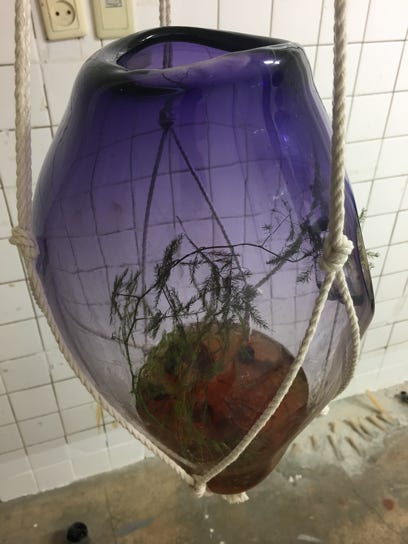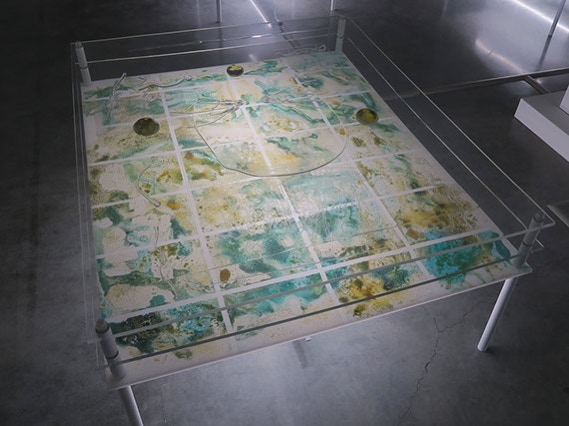 Dossier of Osmosis is a multifaceted installation initially commissioned for the 21st Biennale of Sydney (2018). The work seeks to decompose binary logic by adopting forms of thought and knowledge production that rely on complex systems of connections rather than oppositions. Assemblages of glass and other objects, biochemical processes and their traces form an open-ended installation that is continually changing and evolving at each iteration.
Sound is an integral part of the work. An ultrasonic speaker scans the space emitting glass sounds created in collaboration with an algorithmic system. Embedded within its layers, Dossier of Osmosis also includes text elements by  writer Nora N. Khan.
During a weekly activation, a performer beamed the sound in the space with a tight-beam ultrasonic speaker. This emission of sound resembles a spatial version of ASMR- technique, a widespread phenomenon designed to create tingling sensations in the listeners body (Autonomous Sensory Meridian Response).
Tuomas Aleksander Laitinen: 
Cryptospores
Amado Art Space, Seoul, South Korea
25.5. – 1.7.2018
Curated by Kim Sung Woo


The kernel of the exhibition
Cryptospores

is a collaboration with artist cook Ara Ahn. They have designed experimental fermentation recipes and processes that are displayed in glass containers, slowly growing in a continuous transformation of matter. 


In these works, two different time-scales are at play: the geological time of the glass, an amorphous solid, and a more accelerated pace of fermentation.


The other focal point is a sound installation
Cryptospores (for glass and voice).

It appears as a
creaturely ambient voice composed of sliced human speech and recordings of glass materials used during the production phase of the exhibition. The voices are transformed—through spectral filters and generative tools—into a fecund and unpredictable organism that plays itself in the space. These sounds are seeds dispersed into three separate rooms as an invitation to a concentrated listening event. The area of the installation is covered with thick fog.


The title of the exhibition is referring to fossilised plant spores that first appeared in the fossil record in the late Ordovician period, allowing a glimpse to the myriad forms of earliest land flora.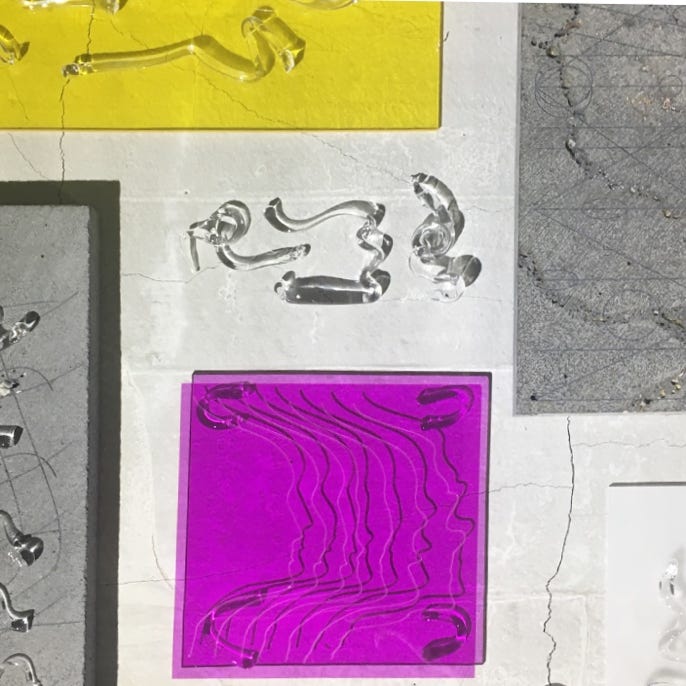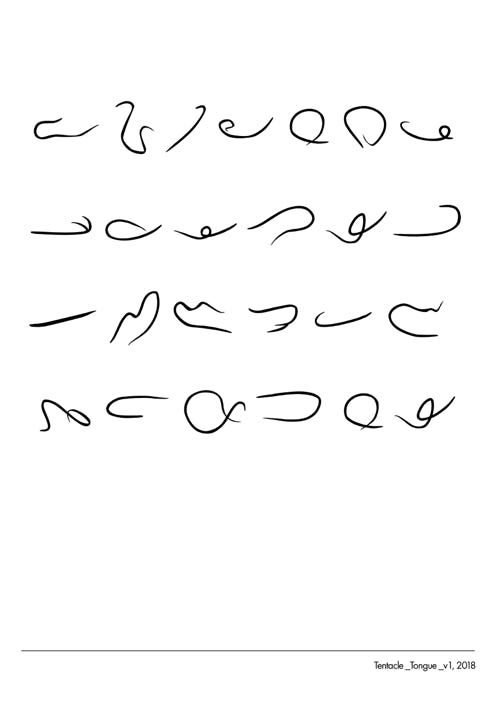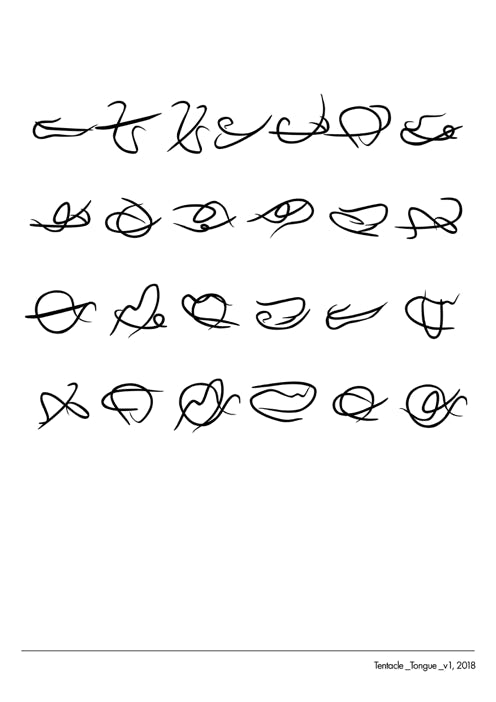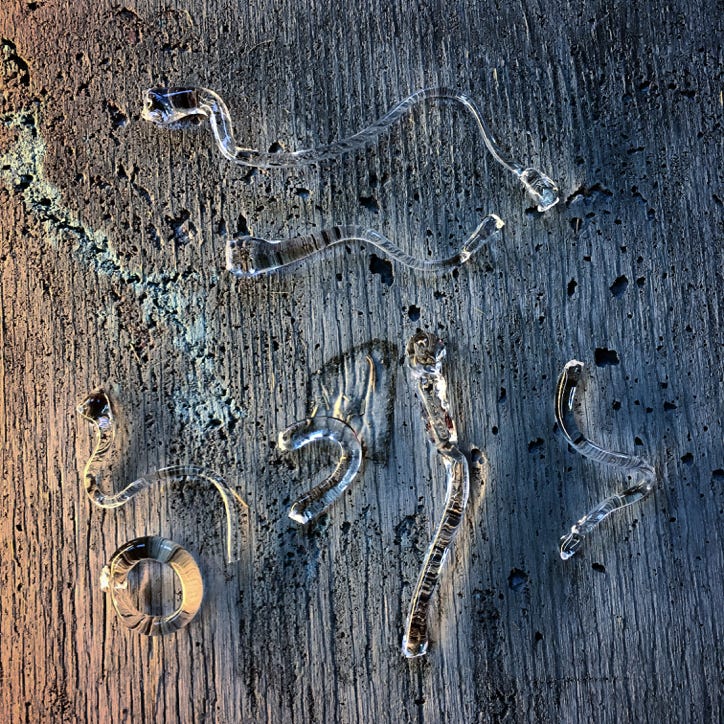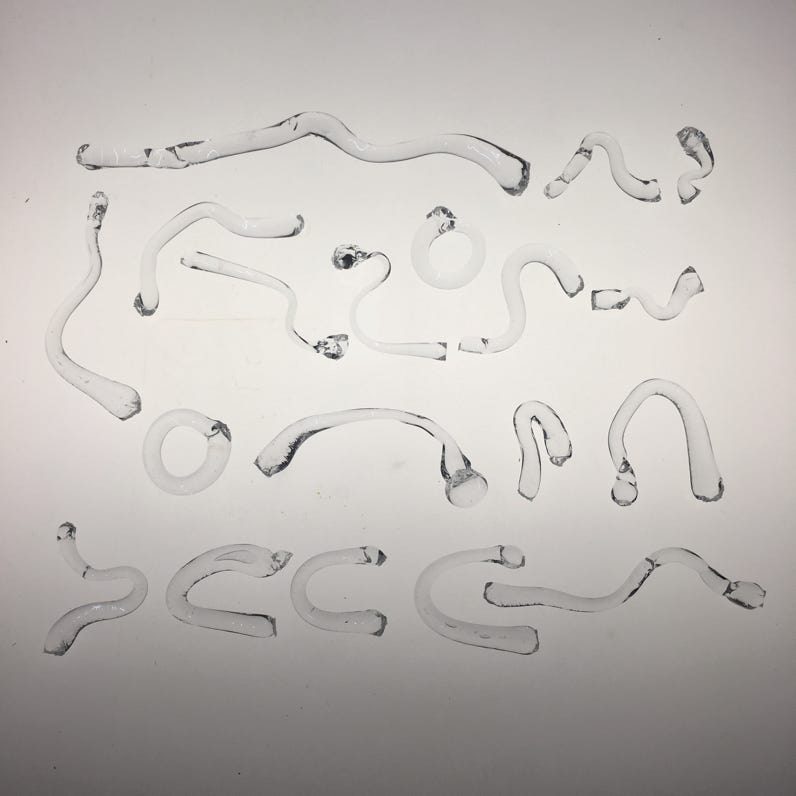 CTongue,
2018
A typeface created from the research on octopus arm movements.
ttf file, glass
Dossier of Tentacular (Project Management), 2018
A soothing soundtrack of the ocean waves accompanies a doodle narrative that touches upon environmental cataclysms and the rituals of knowledge production. Eventually, the molecular takes over as a determining scale, and the blank paper mutates into a delusion.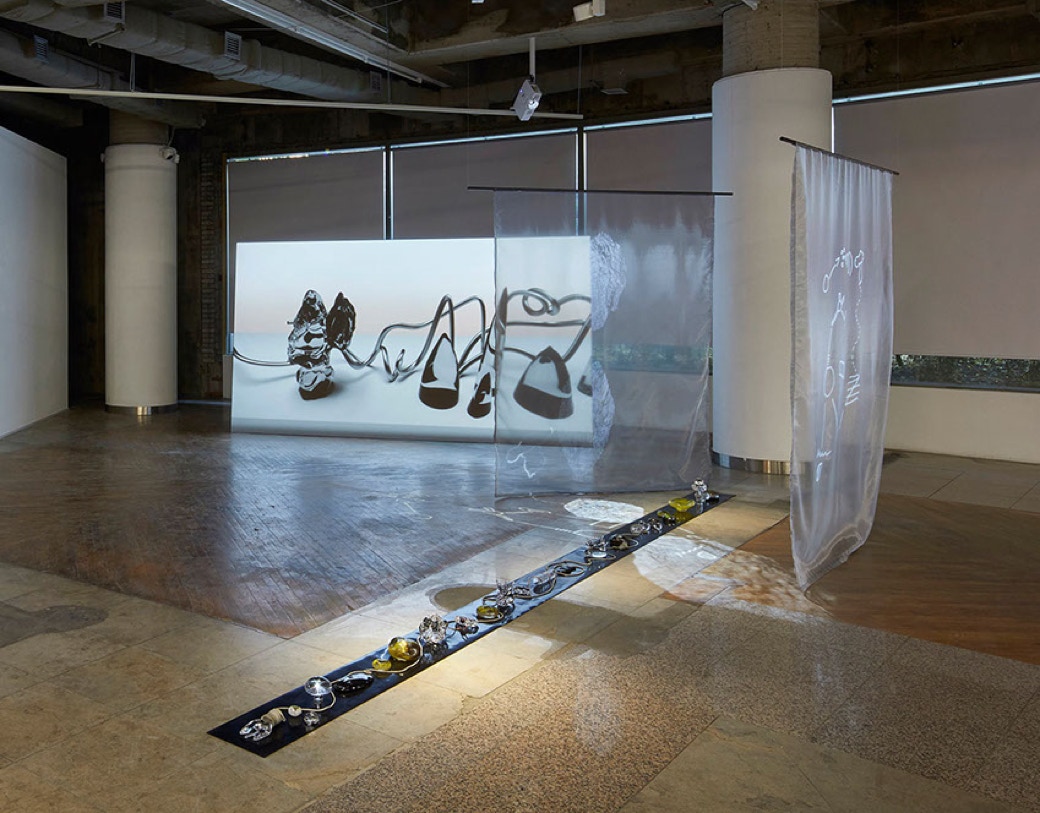 Liminal Cluster
, 2018
Video installation, glass objects
Group exhibition,
Frontiers in Retreat - Edge Effects Art Sonje Center
, Seoul, Korea
Curated by Jenni Nurmenniemi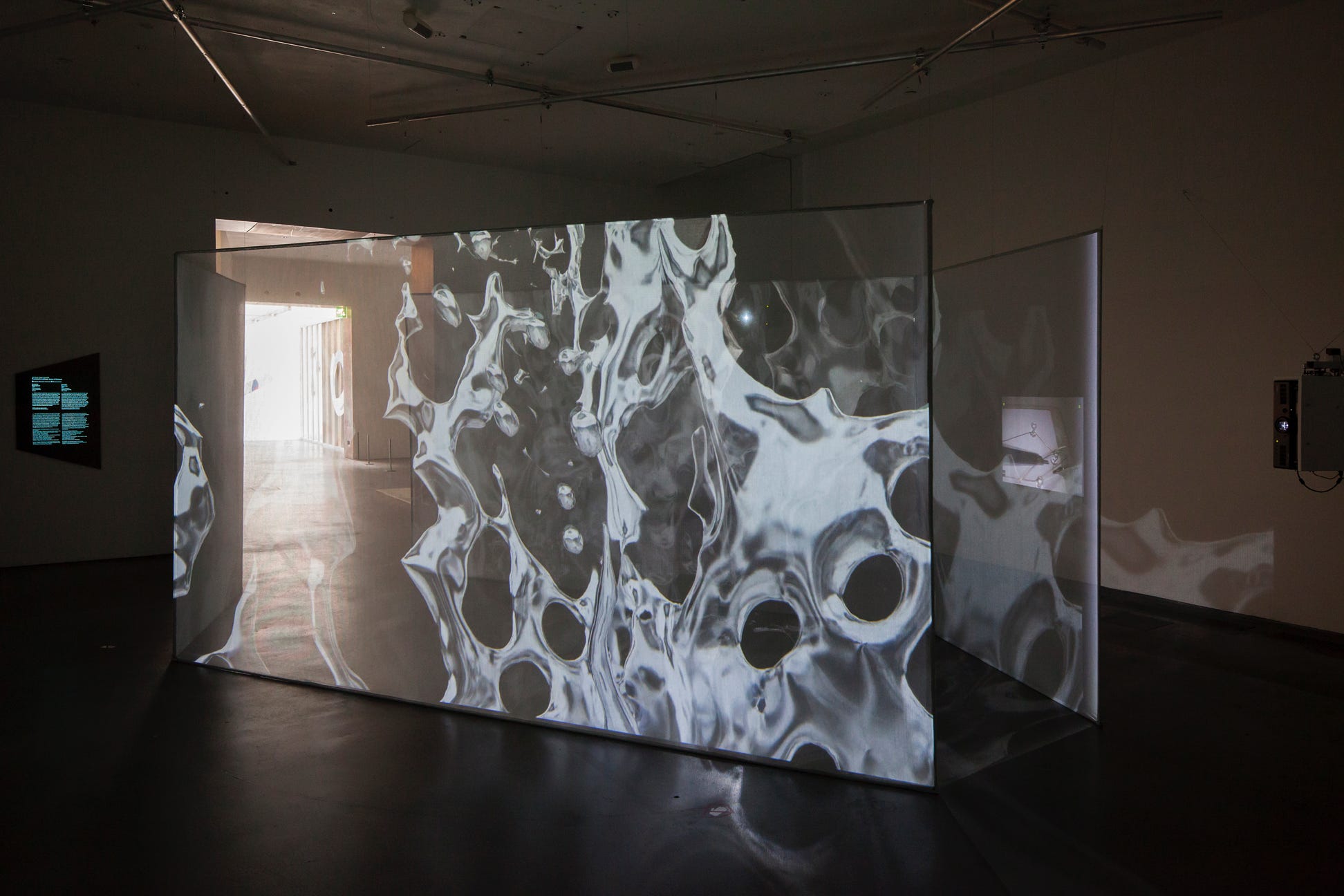 Receptor,
2017
4-channel video installation
Exhibition view
ARS 17
, Kiasma Museum of Contemporary Art
The video installation looks at the ways technology works as a mediator for touch, from rare earth minerals to the use of robots performing surgical procedures that require extreme precision.


A different world of tactile sensation is embodied by the octopus, which is able to use each of its arms to perform complex tasks independently, as each arm is a 'mind of its own'.


The text in the installation is AI-generated. Sentences are produced by an algorithm that has been taught to use language through feeds of experimental literature, namely that of Samuel Beckett. Through this process, the narrator becomes an existentialist machine lamenting on the vibes and ambiences of our age. The ambience in Beckett's experimental texts, the dead-ends, repetitions, and intentionally odd rhythms provided a fruitful incubator for the experiment.


Filmed at UPenn Haptics Lab and New England Aquarium
Neural network coding by Karmel Allison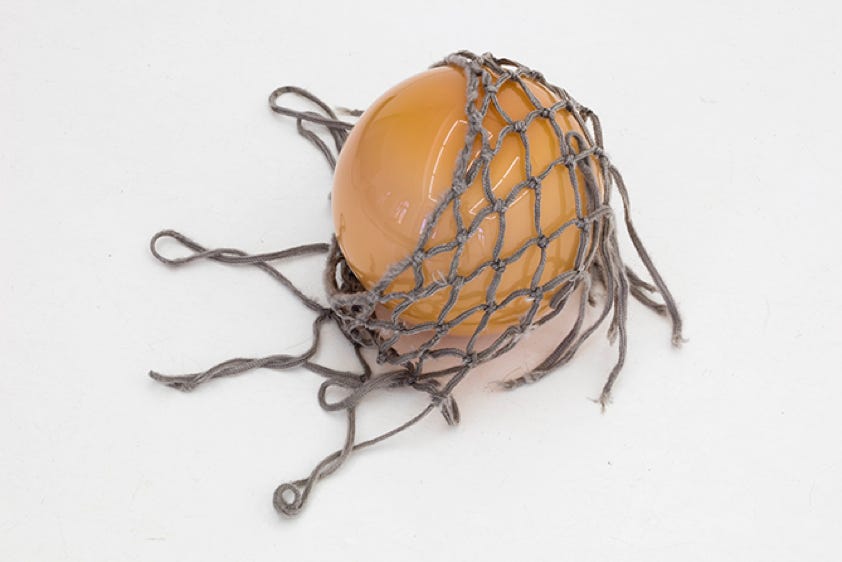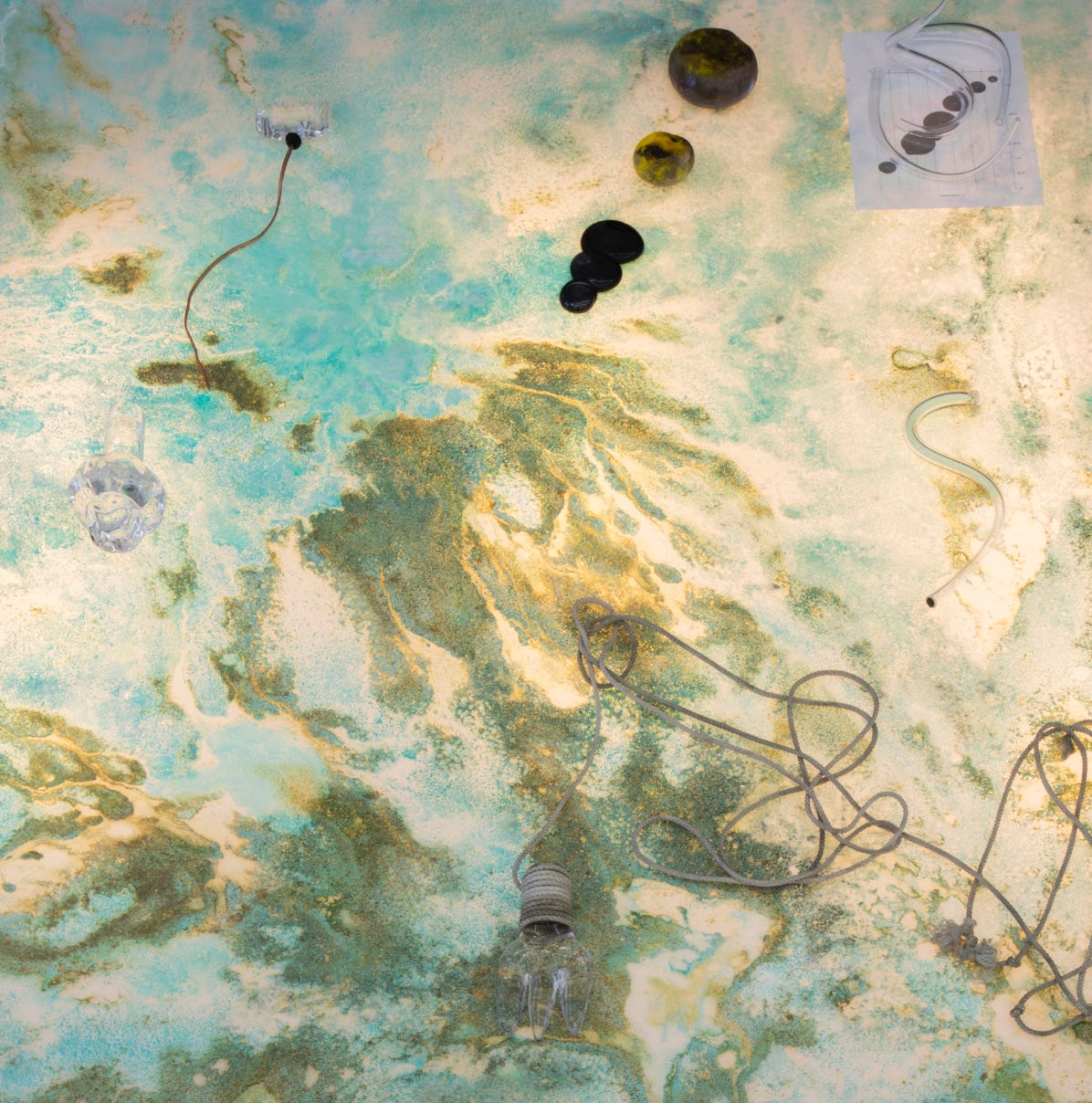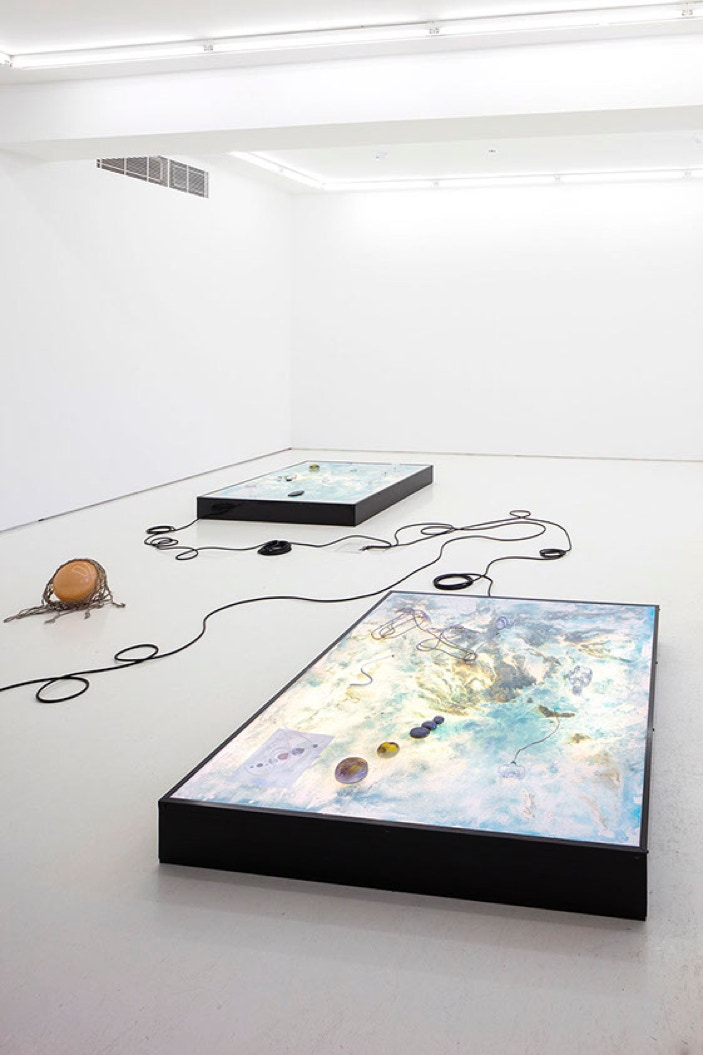 A Porous Share,
2017
Exhibition view, Helsinki Contemporary
Photo: Jussi Tiainen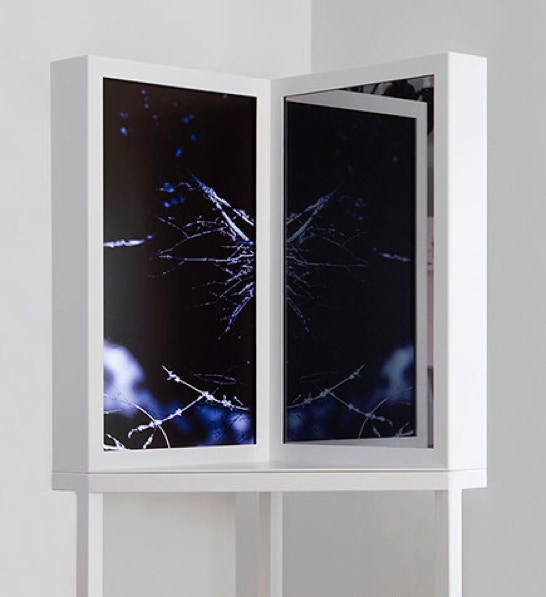 Thicket
, 2016
A site specific generative video installation
Loop, silent
Photo: Jussi Tiainen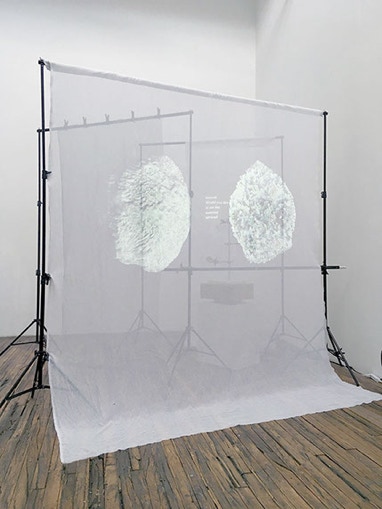 LTC (Liminal Toxicity Cluster)
ISCP open studios 2016, Brooklyn


Including but not limited to: Mp4-files, various scrim screens, extracts from a correspondence with an online service that helps customers to establish offshore companies, phosphophyllite lithium, uranium glass, wooden hand, copper infused arthritis glove, cardboard, illustrations of stone age tools in relation to human skull size, support structure, lab stand, and motor.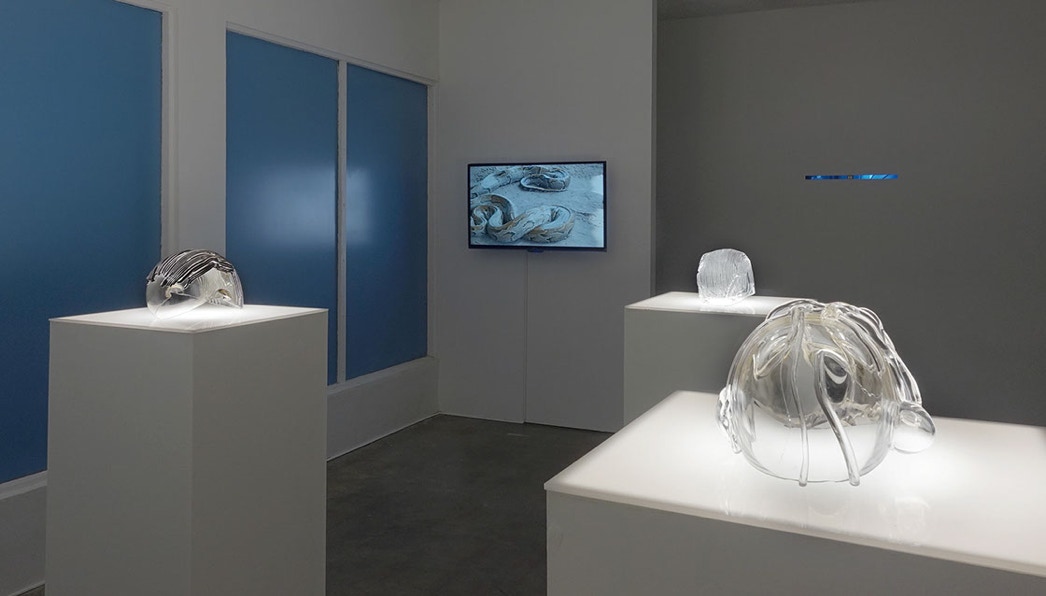 Sensory Adaptation Devices, 2015
Sensory Adaptation Devices
, 2015
Exhibition view, SADE LA, Los Angeles
Human existence has always been accompanied and thoroughly mediated by many materials and technologies that act as transmitting substances in sensing and orientating in the world. These glass objects can be looked at as devices for sensory alteration, but they can also be seen as speculative tools for narratives concerning adaptation to changing environmental signals.


All works from this series are made in Lasismi without a mould.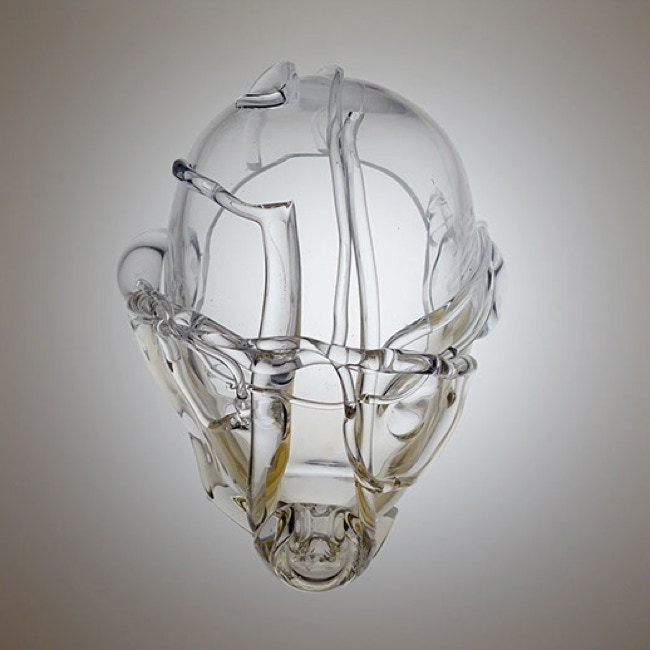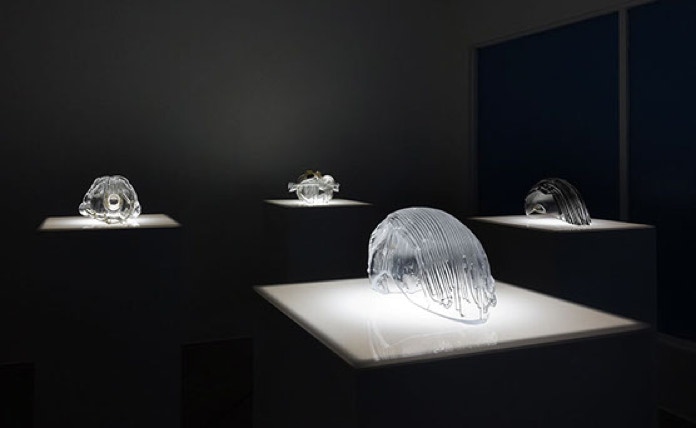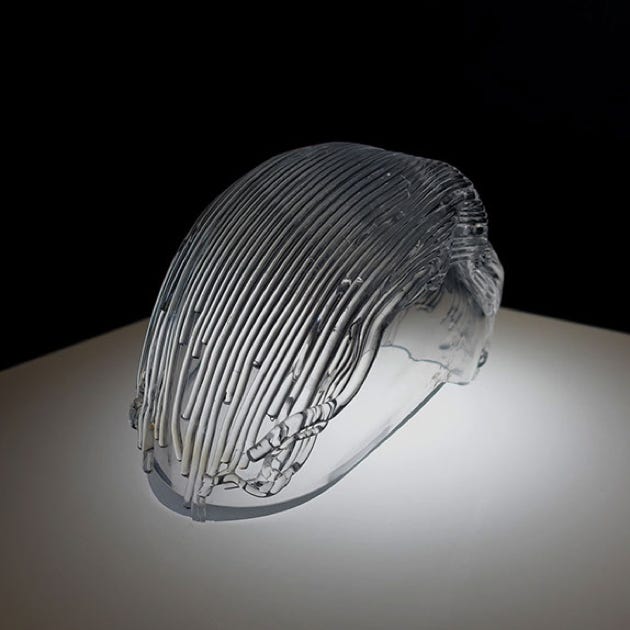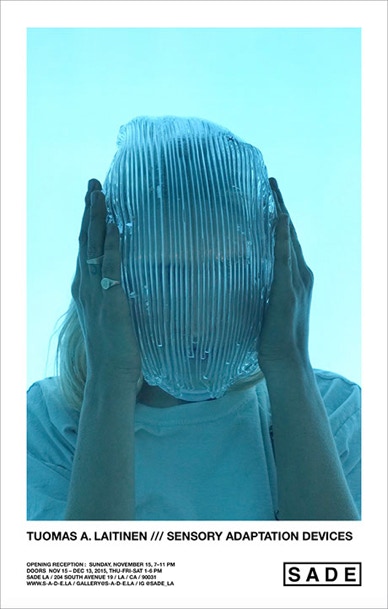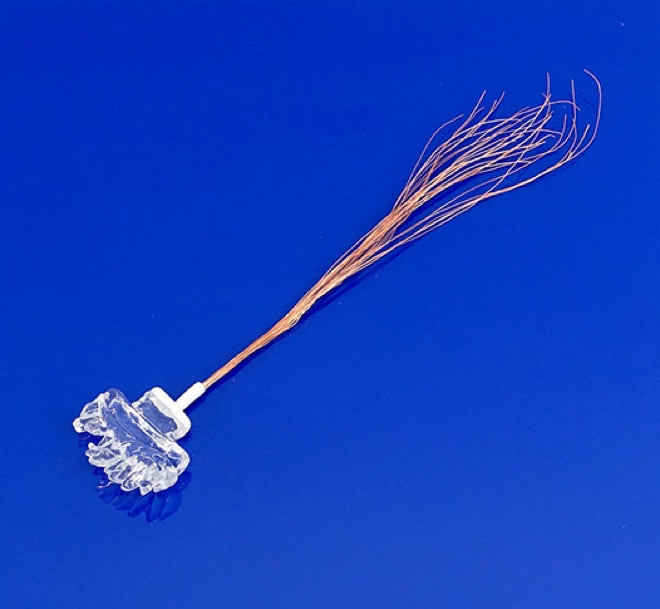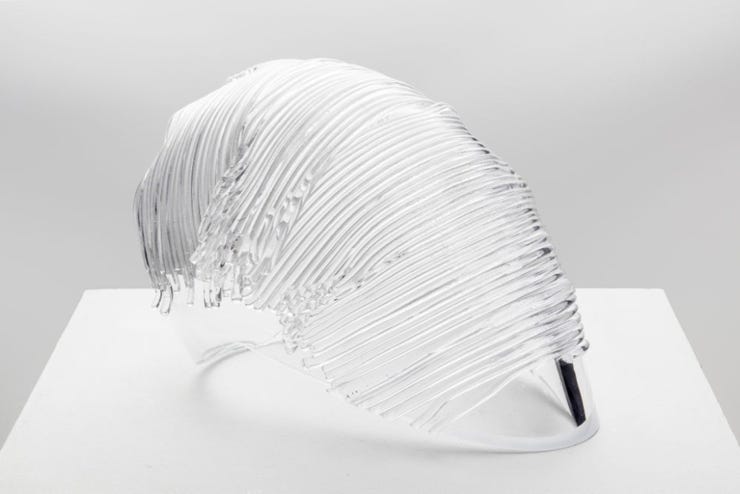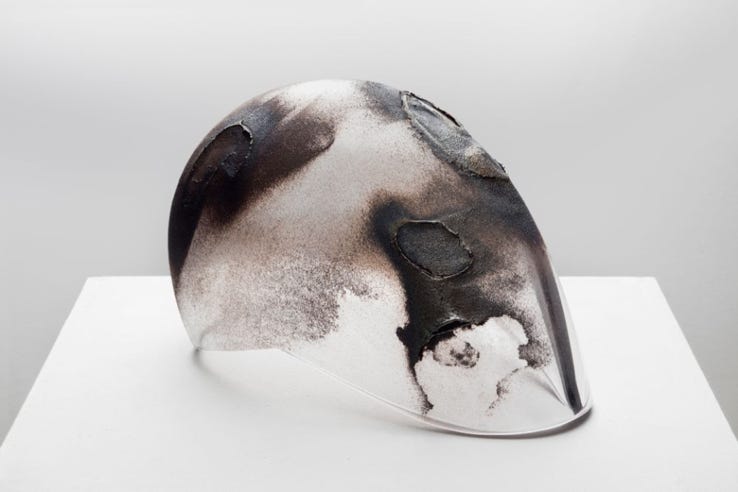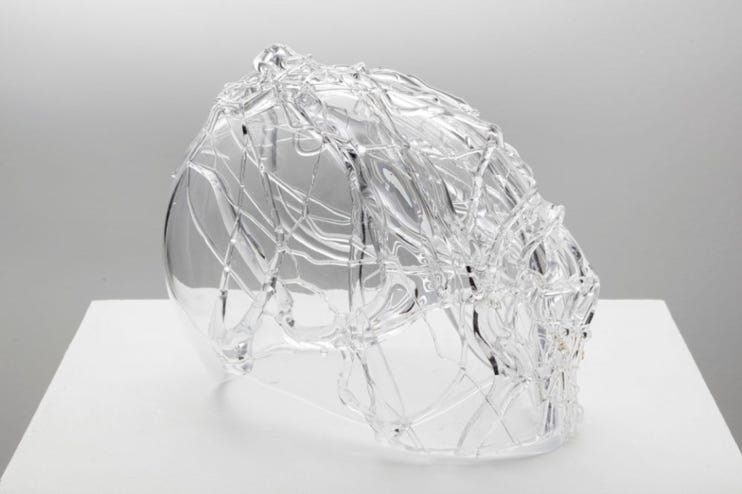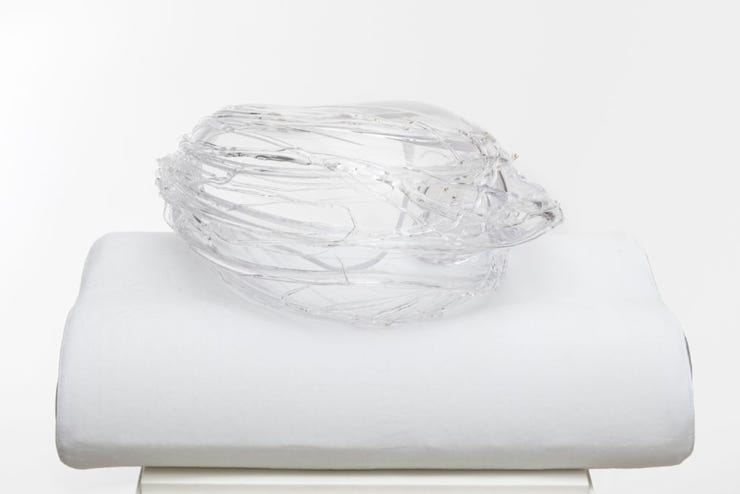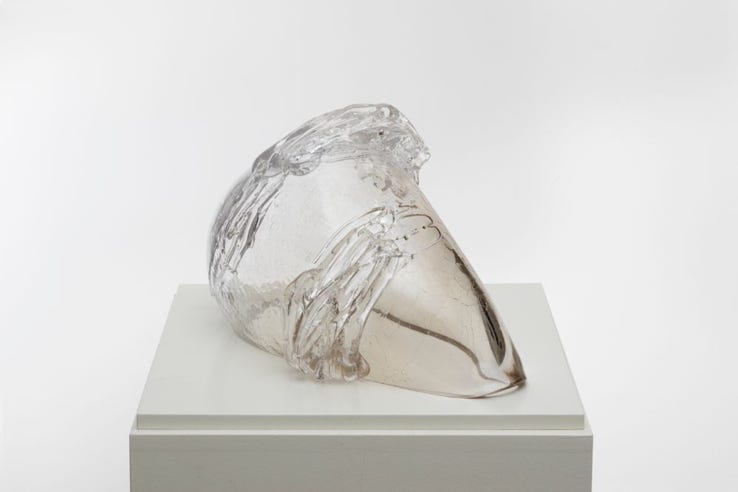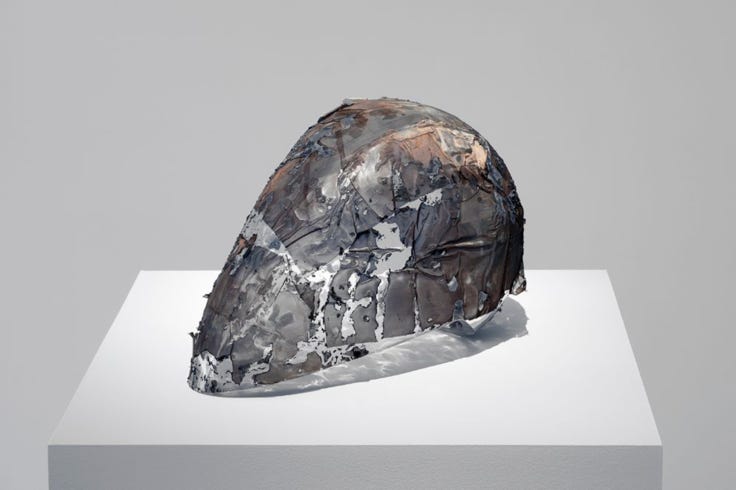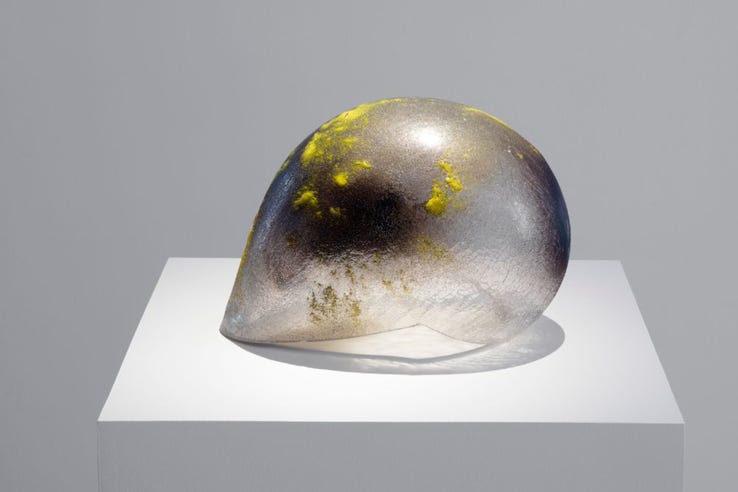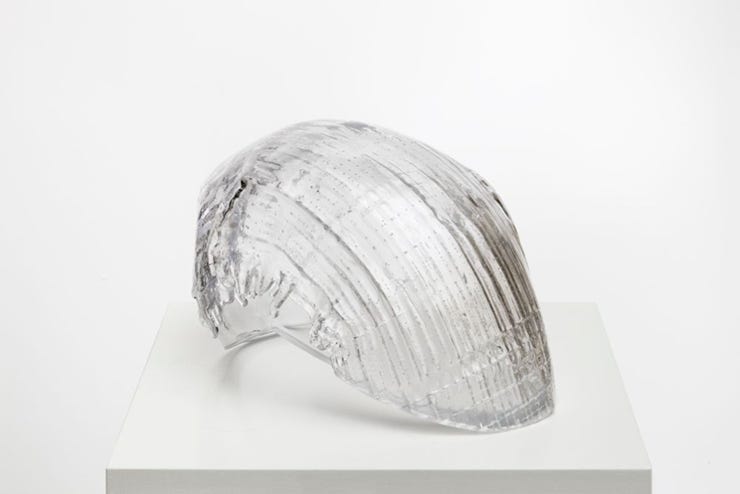 Deep Time Séance 1-2, 2015 Residency Unlimited, New York and Kiasma Theatre, Helsinki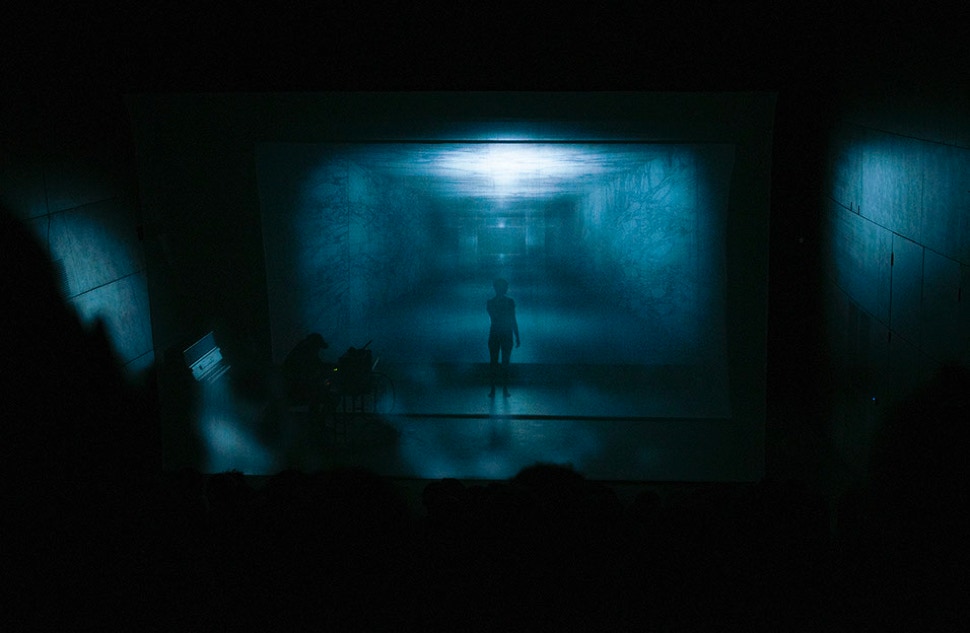 Deep Time Séance: Contamination
is a gathering that meditates the circulation and accumulation of humanmade toxins, the increasing pollution of our everyday surroundings, of places that feel distant to us and of our increasingly plastic bodies. The séance is organised as part of /theatre.now festival that takes place on Oct 14–18 at Kiasma Theatre. The theme of this year's festival is climate change.
In the early years of the 20th century, a séance signified a ritualistic session for communicating with the spiritual world. This séance, however, is a performative installation that collides rational and magical tactics in order to encounter the pervasive uncertainty and the ecological concerns of our contemporary reality. Various artistic means are merged ranging from video art, improvised live music, circulating sculptural objects to poetry, choreography and reiki healing.
Deep Time Séance: Contamination
includes a site-specific, performative installation by Tuomas A. Laitinen, Matti Ahopelto, Tapio Viitasaari and Anna Rawlings, circulating energy objects and text by Jaakko Pallasvuo, choreography by Laura Jantunen and a collective reiki session conducted by Pia Lindman. The séance is curated by Jenni Nurmenniemi (HIAP – Helsinki International Artist Programme) as part of Frontiers in Retreat (2013–2018), a multidisciplinary project around ecologies and contemporary art.
Working Group: Matti Ahopelto (Siinai), Tuomas A. Laitinen, Tapio Viitasaari, Anna Rawlings: video, music, performance; Jaakko Pallasvuo: energy objects, text; Pia Lindman: reiki; Laura Jantunen: choreography; Jenni Nurmenniemi: curation
The Powder of Sympathy, 2015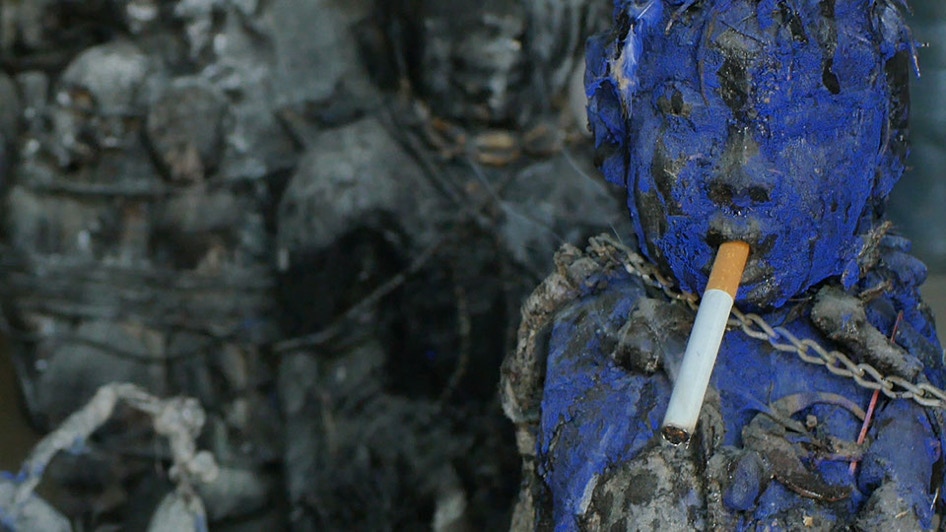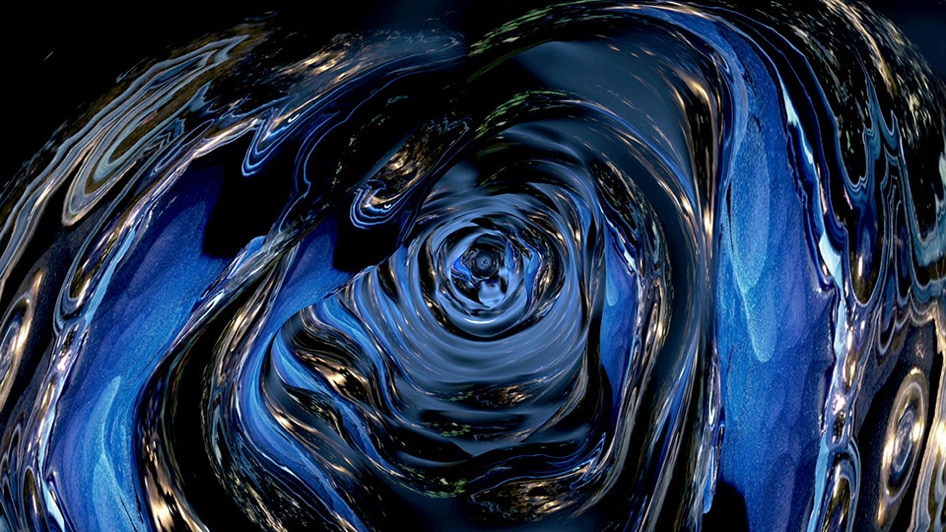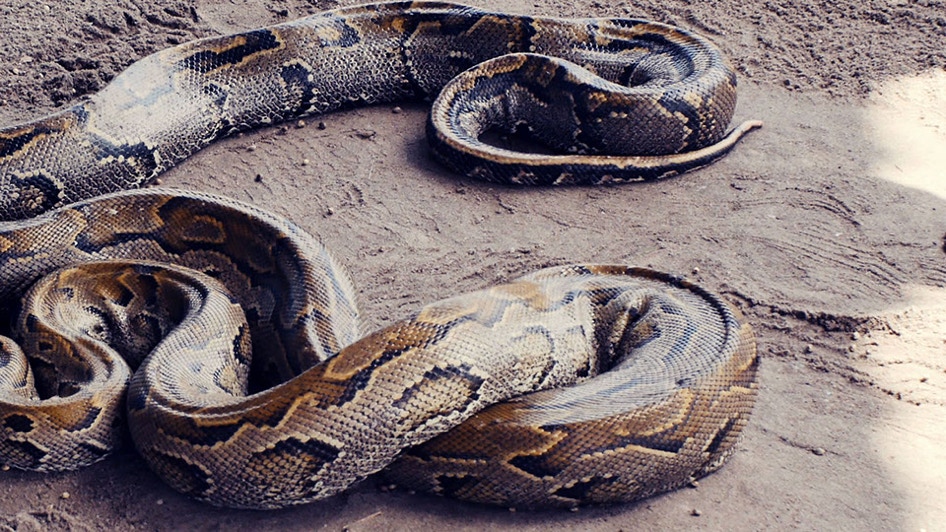 The Powder of Sympathy
, 2015
HD video, stereo sound
Duration: 8'36"
In the collection of Kiasma – Museum of Contemporary Art
The video tracks the mythical and chemical characteristics of copper. Beginning with its healing properties then progressing to its conductive role in the development and continuity of electricity-dependent modern societies, the work's occasionally disrupted images dissolve into entropy.
Credits: Tuomas A. Laitinen (Director, Editor, Sound Design, Music), Matti Ahopelto (Music),  Jenna Sutela (Text), Yuan Z (Actor),  AVEK / - (Funder), HIAP / - (Funder), TAIKE / - (Funder)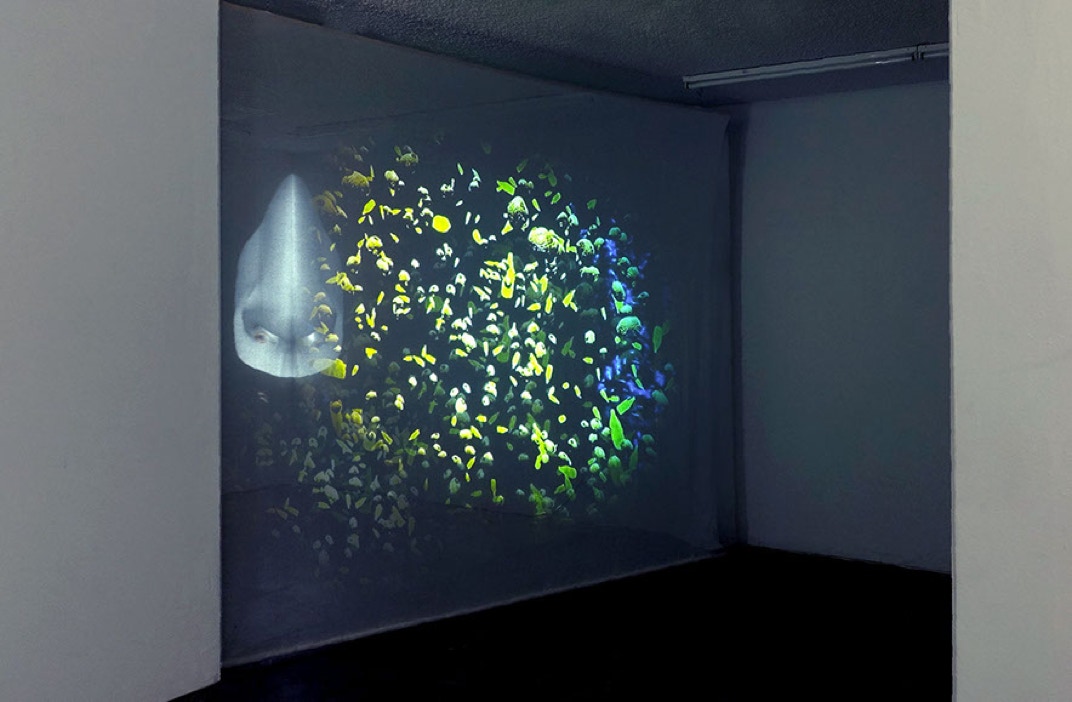 Contamination
, 2015, Two-channel video installation
Transparent scrim screen, corner projection
Duration: 17 min, Exhibition view, SADE LA, Los Angeles
Contamination is a 3D-animation and a video installation approaching the issues of pollution, circulation of microbes, and climate change. The work is an inquiry on how complex events in the atmosphere affect and modify bodies. It is a meditation on the constitution of a body that is not singular (an individual), but a symbiotic collaboration of many species.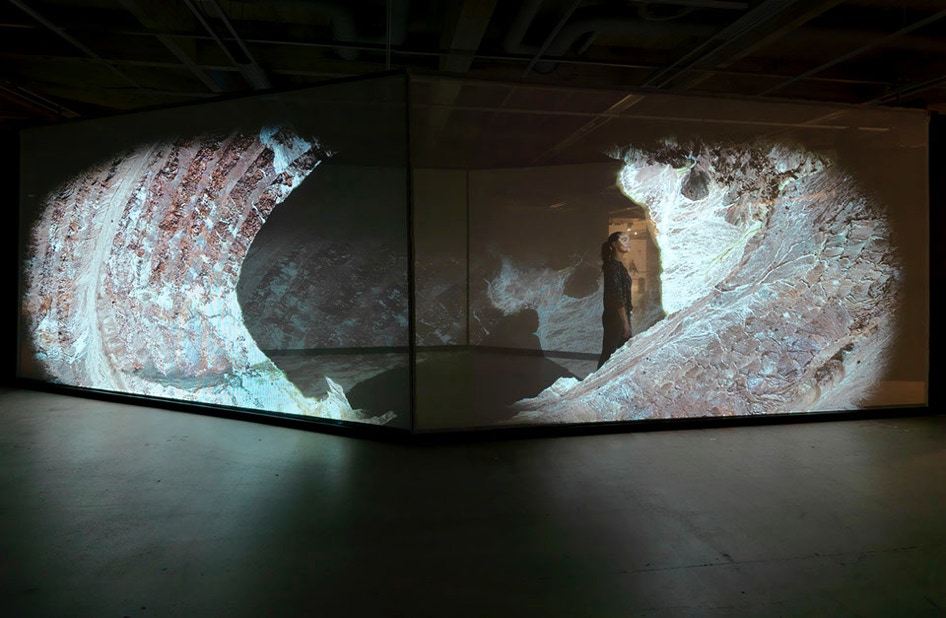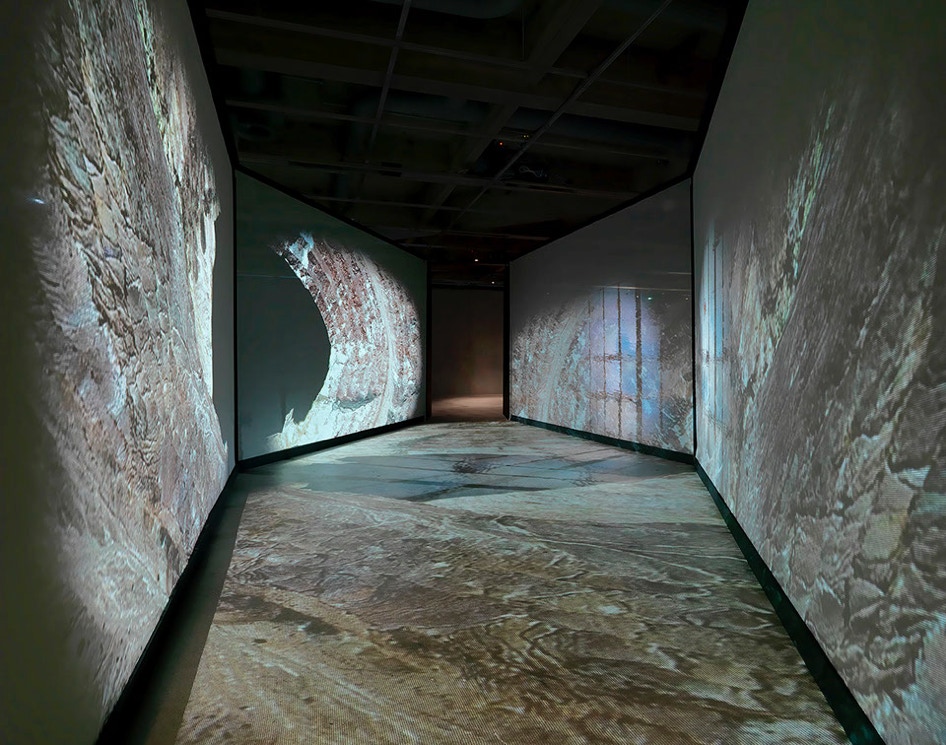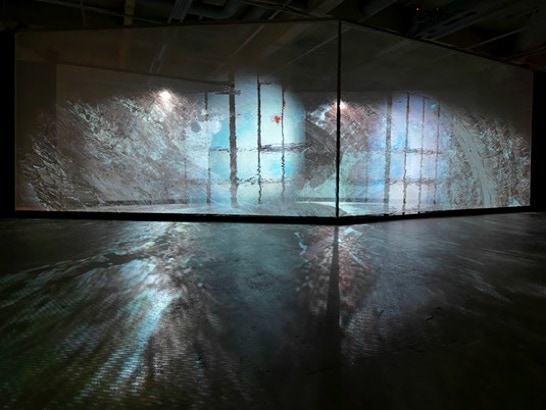 Conductor,
2014­–2015
Four channel film installation
Sharkstooth gauze screens Architectural structure, 5.1. Sound
Duration: 27 min Photo: Ari Karttunen / EMMA
Conductor is a multi-channel video installation examining the transformation and circulation of matter during a time of the climate crisis.


At the core of the research is copper, a material that is one of the core mediators in contemporary societies. It is also present in many myths and fables, and it is known for its antimicrobial qualities.


In the video installation, a tracing of the genealogy of
matter happens between the agency of the material
itself and the built environment it is needed for, and
finally, in the environmental effects it creates.


Sweet Spot of No Escape, 2014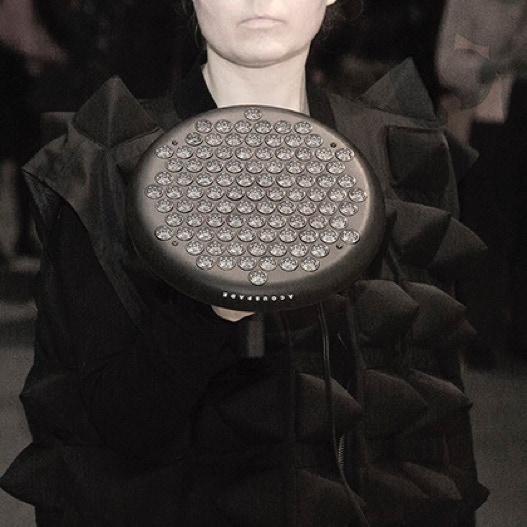 Sweet Spot of No Escape,
2014
Ultrasonic sound installation
Performers, space, ultrasonic speakers, subwoofer
Costume design: Daniel Palillo, Exhibition view: Tuomas A. Laitinen, Fundamental Matter, EMMA-Espoo Museum of Modern Art
Two performers beam a pre-recorded sound via ultrasonic speakers. The activators have a set of simple rules on how to react to the audience movement in the space. The audio in the installation is a compilation of reconstructed mass e-mails on the subject of copper mining and environmental data. The work is addressing the virality of knowledge production, and the use and misuse of distribution strategies of information.


Physically, the ultrasonic speaker works so that it creates a spectral aural presence in the room, and the performers can dynamically utilize the sound by directing it to a specific spot or a person in the space.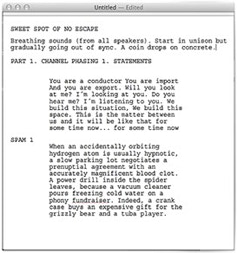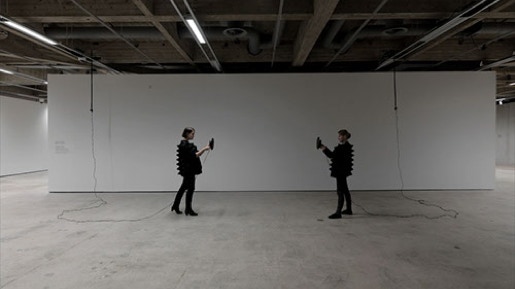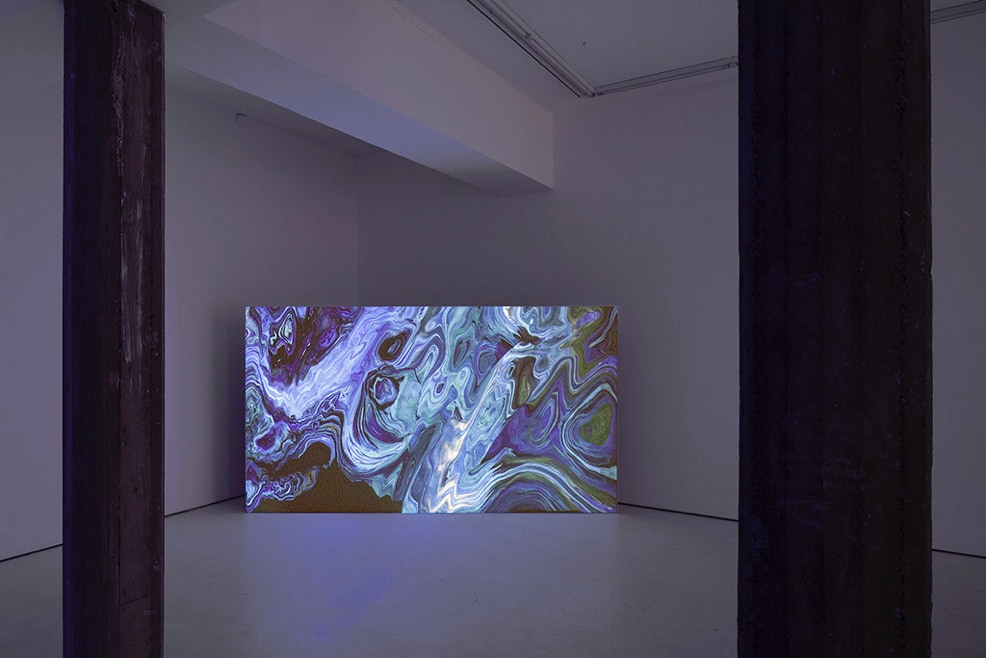 Azure Dune,
2015
HD video, silent, loop
Duration: 5'30"
Photo: Jussi Tiainen
Azure Dune presents a blend of an imagined desert landscape and the textures of azurite, which is one of the ores from which copper can be extracted. It is a meditation on the transformation of the ecosystem affected by climate change, human activity and deep time processes.

LED light, DMX controller, copper objects, canvas
In the collection of HAM – Helsinki Art Museum
Photo: Jussi Tiainen
MAP/MAZE
,
201
2
Steel, magnet, motor, wood
Screening
,
2007
Motorized lightbox
Gut Machine
,
2007
Motorized lightbox
Motorized lightbox works are examining the fabrications of moving image before cinema or video. These works are indebted to 19th-century technologies for producing mechanical moving images as spectral apparitions. Transparent UV-prints are placed inside the lightbox that has a cycling device designed for supporting light movement. The viewer sees the shadow of the print.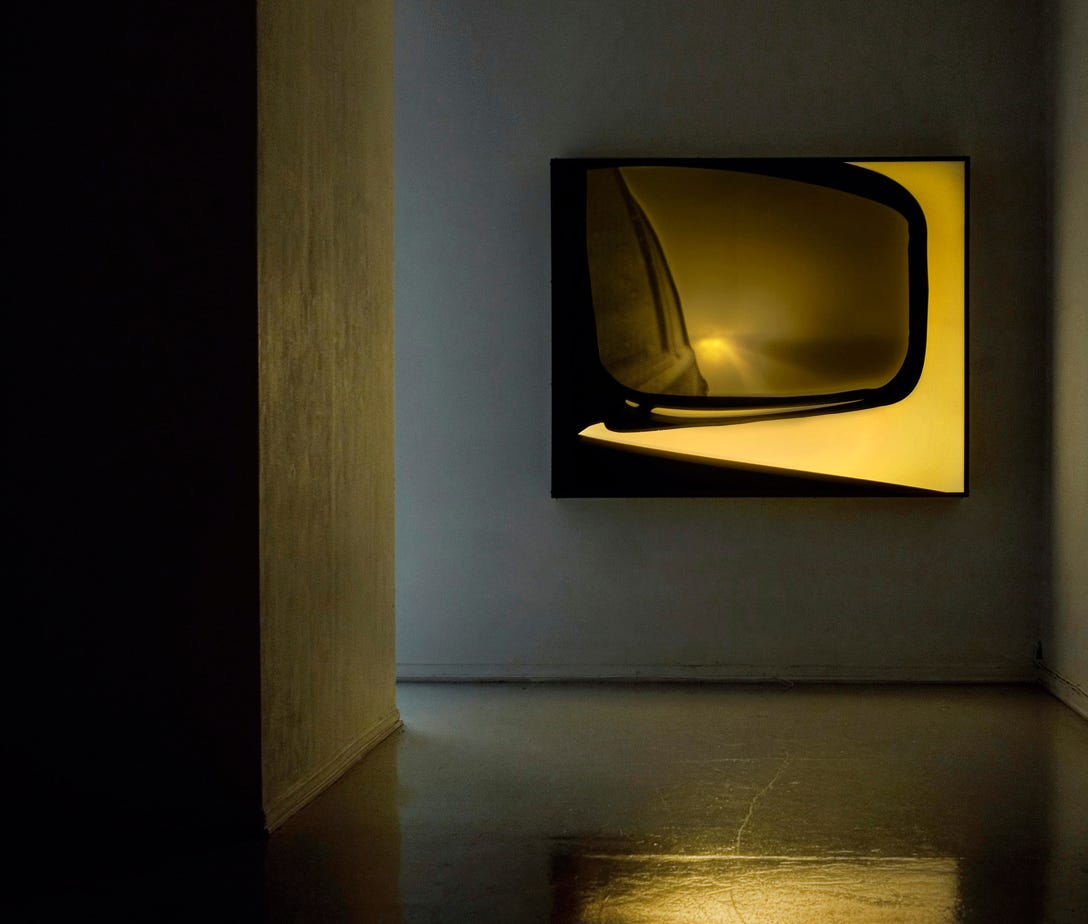 Heat
,
2007
Motorized lightbox
In the collection of Kiasma Museum of Contemporary Art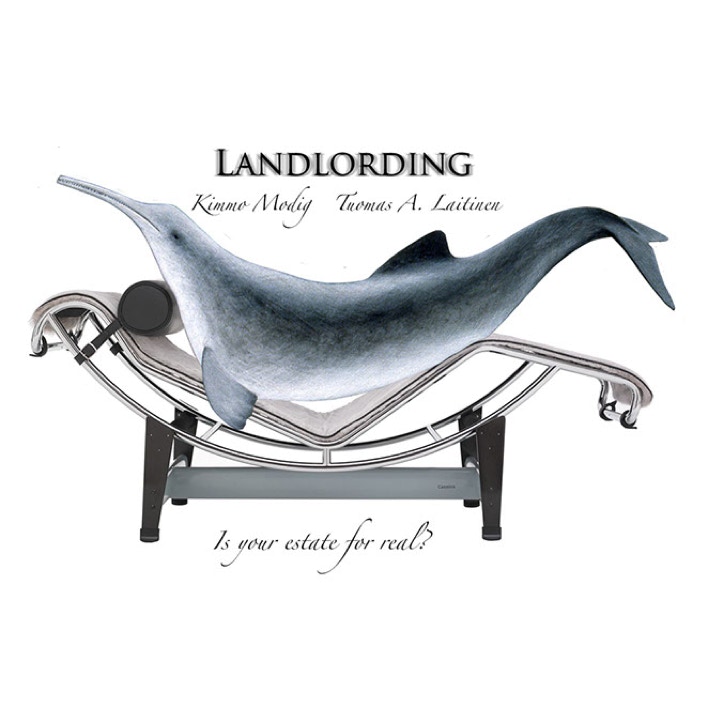 Kimmo Modig & Tuomas A. Laitinen:
Landlording,

2015 –
Landlording is an online tv series following the life and projects of Kimesco, a young real estate developer and investor.